Just over a month ago, our movie theater in Astoria added a 3D projector. Finally, coastal cinephiles need not drive the 69 miles to Hillsboro to see the splendors of multi-dimensional cinema (and I'm mostly talking about the visual technology, not the depth of story or theme). And, boy, is it worth the extra three bucks in my opinion.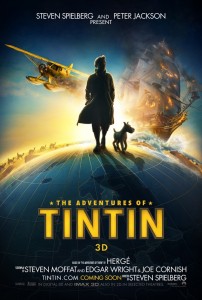 3D cinema is mostly maligned for being about shock effects — you know, when a spear thrusts out of the screen at you, or you 'ooh' and 'aah' when finding yourself in a cloud of falling popcorn, and certainly those moments provide fun. But the true joy of 3D is when craftsmen respect it as an artistic tool and use it to more deeply immerse you in their fantasy worlds.
Pixar makes great use of three dimensional screen space — if you've seen the vertigo-inducing heights of UP in 3D, you may never want to see it on a traditional screen again. And Martin Scorscese's HUGO (though I have not yet seen it) is getting raves for its 3D artistry. 3D works the best for me in exotic environments — the flourescent jungles of AVATAR or the cobblestone streets of PIRATES 4 — when hundreds of tiny details make you feel like you're really there. Done this way, 3D moviemaking is the closest we have to time travel. And if you like to disappear into movies, to escape fully into their alternate worlds, then you disservice yourself by not seeking out 3D showings.
The current film playing in 3D in Astoria is Steven Spielberg's THE ADVENTURES OF TINTIN — which gets a strong recommendation from me. It's an Indiana Jones style adventure that's rousing for all ages — featuring humor, madcap chases, and exotic settings in an old fashioned era. It also gives Spielberg a new technology to play with – the virtual camera.
The movie uses mocap technology (motion capture), which means it attaches hundreds of electrodes to actors wearing body suits and records their movements (yes, even facial expressions) in the computer. This data can then be maniuplated in any way, i.e. bodies molded and costumes swapped, but the real revolution is freeing actor from set. Because they're filmed in front of green screens, any kind of background or action can be designed around them. Imagine taking photos of your kids to Bill Steidel, hiring him to design a world of flying balloon ships around them, and then making it all look real. That's what MoCap allows.
It also allows a virutal camera which Speilberg uses to great effect in TINTIN.  Imagine a floating camera that can fly anywhere at any speed, tracking actors on motorcycles through city streets then following them crashing through a window and out the other side of the building and down a clothesline and on and on — all in one shot! There's a sequence like this in the middle of TINTIN that's worth the admission price alone. With a virtual camera, Spielberg can create anything he imagines and not be limited by where a camera can be placed in the real world. It's the biggest argument for seeing this film if you love film.
I'm not the biggest fan of our coastal movie theaters, but if you can't get over the hill give 3D in Astoria a chance, especially with something as rousing as TINTIN. It's a whole new world cinematically that succeeds by giving us more of our  old world. 3D or not 3D, for me, that is no longer the question.