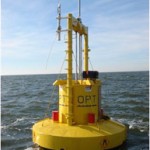 Wave energy companies are lining up to get in on the action off the Oregon Coast, which supposedly has the best wave energy resources in the West. Up to 500 MW may be available to help power the grid. The state is delineating where the wave energy devices could be located, in order not to displace current uses, like fishing, or disturb the habitat of marine organisms.
Check out the article I wrote in HIPFiSHmonthly recently, and give me your opinions and comments on wave energy in general, and also specifically whether you're worried about potential wave energy devices in your neighborhood. In light of the recent battles over wind turbines on the north coast, battles over wind turbines off of Cape Cod, and the local LNG battles, I'd like to know whether people think that there might be similar problems with wave energy.
So, are you for or against wave energy and why, and how much do you already know about it?