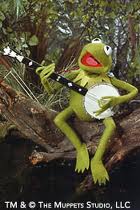 The first time I heard the opening banjo notes of The Rainbow Connection coming from a frog on a stump in the swamp, I was just a kid sitting transfixed in the Admiral Theater in Bremerton, Washington, watching The Muppet Movie.
That was a palace with its marquee rimmed by lightning-trapped bulbs, a real ticket booth, a slanted hall with cavernous ceilings, balcony, and cushioned seats. And when you sat back, swinging legs that couldn't touch the floor, and stared at the ceiling – you could see flying ships emerge from painted clouds. They were there – the faintest lines in the dimmest light for the youngest dreamers to see. I was one of them.
I just didn't know how Kermit knew that.  How did he know I was a lover and dreamer, that I heard voices, and that I'd follow him to Hollywood looking for a rainbow connection?
I wasn't in a position to doubt him. After all, he was the daily reporter on Sesame Street, bravely delivering the news when all matter of blustery neighbors and elements tried to knock him over. How could I question him? As a son of the Pacific Northwest, I knew how hard it was to stand up in storms. And I was twice as big as him!
'Why are there so many songs about rainbows and what's on the other side?' (Verse 1) Though I didn't know many songs about rainbows then, I knew one. My family had been annually watching The Wizard of Oz on TV for years. How did Kermit know how I felt when hearing that first rainbow song? That I longed with all my heart for the magical place over the rainbow Dorothy sang about. Did he long for that, too?
'Who said that every wish would be heard and answered when wished on the morning star?' (Verse 2) How did Kermit know I wanted Pinocchio as my brother so we could wish on the same star? Or that I waited at the window for Peter Pan to teach me to fly?
'Have you been half asleep and have you heard voices? I've heard them calling my name.' (Verse 3) And how did he know my Sunday School stories? Like the one about Samuel who, while half asleep, heard a voice calling his name and ran to his father only to learn it wasn't his father's voice at all — it was God's.
I heard it, too, Kermit. In my sleep. In my church. In the theater when you sang. And too many times to ignore it.
I heard it in the basement during my family's annual pig roast when The Red Balloon died and rose again. I heard it when a stooped Southern preacher with a cane walked me down a windblown beach with Haystack Rock as our shadow and told me how he became a boy preacher. I heard it the first day I walked through the archway under the railroad tracks at Disneyland. I heard it from the rafters of a Broadway theater when Jean Valjean prayed Bring Him Home in Les Miserables. I heard it the night I dreamed a name in a language I'd never heard and was healed. And I heard it the day my first born child came into the world to the sound of doctors and nurses quoting Psalm 23.
After all these years, sometimes I hear it still. I heard it again in the theater with my own kids watching The Muppets, Kermit's newest film in which he reprises the song. And I wondered again with him. 'What's so amazing that keeps us stargazing and what do we think we might see? Someday we'll find it — the rainbow connection — the lovers, the dreamers and me.'
I believed him then and I believe him now. When we're half asleep, a voice calls each of us – too persistently for us to forever ignore – to search for and find our rainbow connection, our connection to the heavens. I heard it from Kermit that day many years ago and again in the theater this year with my own kids. And I keep searching for it. It's why I love movies and Disneyland. It's why I still go to church and pray. It's why I write.
I don't know how Kermit knew, but he did. I heard his clarion call, believed him with all my heart, and followed his lead. And when a rainbow broke through the theater ceiling at the climax of The Muppet Movie, I'm not sure one didn't also break through the ceiling of that old Admiral Theater in Bremerton because it lit the path of one kid all the way to Hollywood. Thank you, Kermit.
And if you haven't heard it lately, maybe this will refresh your memory.