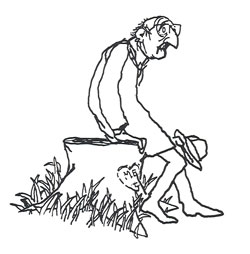 Drawing by Shel Silverstein, from "The Giving Tree" 
On the morning of the first Earth Day a seven-year-old boy seached for salamanders in a creek. He didn't know adults were launching a new holiday to encourage care for creation. His heart and mind were filled with amazement at the critters who lived under the damp mossy rocks. After lunch he climbed one of his favorite trees.
Boys can be very protective of the things they love. At age ten he co-authored his first editorial — a missive to City Fathers from his fourth grade class at Lincoln Elementary School. Adults were deciding whether to permit the destruction of a beloved forest to make way for a new shopping mall. The boy and his classmates were compelled to speak for the woodland creatures who had no voice in the decision.
Today the mall struggles to compete with big-box chains located further out on the sprawl of concrete and pavement that was once fields and creeks and trees. For decades politicians have funneled tax dollars into utilities and services to support that spreading new development, even as they have neglected existing urban needs.
This is the pattern for communities around the planet. Moneylenders gamble on urban growth as the ticket to economic gain. Developers proclaim it will expand the tax base. Politicians raise taxes (or cut core services) to pay for growing expenses. And when the game goes bust, here in America, leaders use public money to bail out the gamers who're deemed too big to fail.
The power it takes to feed this speculative growth is more and more costly and dangerous. Extracting and burning fossil fuels breeds destruction — massive spills of oil and coal slurry, demolished mountaintops, dirty tar sands, poisoned water and earthquakes from hydraulic fracturing. Not to mention climate change. And problems with nuclear energy are equally distressing.
Yet politicians and their core supporters seem unbothered about what happens to creation. Republicans plot to burn down the school of environmental ethics. Democrats cheat while flirting with the school's teachers in hopes of getting a passing grade.
Either things get worse, or we change.
Man's conscience is in need of repair. Something is lodged in our psyches that disconnects our minds from our hearts. It shields us from feeling remorse for our dead-end behavior — what religious authorities call "sin."
The boy inside me has an idea. For many years I've tried to communicate it, in columns published in small newspapers. I'll try again.
Way back when I was first scouting for salamanders, a Sunday school teacher read me "The Giving Tree" by Shel Silverstein. The book chronicles the relationship between a boy and a benevolent green friend. On the surface it seems sweet and tender. Beginning with mutual love between these central characters, the story becomes increasingly one-sided as the boy grows into a man. He appropriates everything his friend has to offer, including her fruit and trunk and limbs. He does this without reciprocation, existing solely to take whatever he wants. She exists solely to give.
A commercial success, Silverstein's story made me sad and mad because it sugar-coated the consequences of man's selfishness. That's how I felt and still feel.
Similar emotions swept over me the last time I listened to a children's sermon in church. The cleric passed out candy canes to the lambs he shepherded down to the alter. The red-colored swirls on the treats became props for his message about sacrifice.
"Christ's blood is sweet," declared the cleric, linking the birth of a loving boy with his future torture and murder at the hands of the mob, church, and state.
Religious doctrine teaches us that the death of Jesus was a blood sacrifice — a sweet gift to cleanse the world of sin. We call the day he was killed "Good Friday," and celebrate his resurrection with lamb dinners. I always piled on the mint jelly.
Easter, Passover, Earth Day, Mother's Day — these religious and secular holidays coincide with the greening that revives us this time of year. As a member of America's chief spiritual tradition, I was indoctrinated at a young age to believe that all of life turns on the human sacrifice of Jesus. I was taught that his execution was the primal benevolent act that enables believers to live for eternity, regardless of what we do.
That event was also a hideos taking of life, an abomination of human judgement, and we tend to overlook that part in our interpretation. The oversight seems linked with the response to a question I once asked of a former Sunday school teacher.
"What about man's pollution of the earth?" I asked. "How do we reconcile that with our spiritual convictions?"
"There will always be trade offs," he said matter-of-factly, without missing a beat. And that was the end of the conversation.
Spring this year leaves me feeling like a decrepit old man, slumped on a stump where the tree of life once offered beautiful shade. Indeed, as I slump I'm also deeply grateful for creation's gifts of renewal that surround me.
Yet for what man has taken, greedily and without conscience, I am bereaved and utterly ashamed.
Lord help men mend our existence.