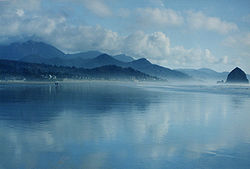 Your beach has tall grasses growing out of it. Your shore seems to stretch way into the sea. Your water's visitors are dressed as if they are going to the snow, and out of nowhere seems to be this massive rock demanding attention like it was the neglected middle child. Having never before visited, Cannon Beach didn't conjure images of any kind for me other than sand and waves, which can be very misleading for someone visiting from sunny Southern California, where the waves are bigger, the sand can burn your feet, and everyone runs around half-naked instead of thrice layered.
I come from the land of the sun. People worship it, and people come to my hometown because they have big dreams—which may or may not include meeting the super-dysfunctional-though-almost-run-of-the-mill types that seem to congregate in Southern California and make it onto the country's television screens. People don't wear full-length coats, boots, and scarves to my beaches—not even in winter. They don't collect the slimy, leafy kelp that litters our shores to make amazing sculptures and baskets as I have seen in Cannon Beach. Our half-dollar-sized spidery starfish are cute and hardly intimidating next to those starfish nestled in the tide pools at the base of Haystack Rock.
And while at my beach you can scoop handfuls of sand as the tide washes out and hold in your palms a few little sand crabs, you will never find a sand dollar.
My beaches may have a constant buzz, a lot more vanity, and multi-million dollar homes blocking views of the ocean, but that is the beach culture with which I'm most familiar.  But familiarity doesn't always invoke comfort. Cannon Beach—a place with which I was completely unfamiliar—was very comfortable. Welcoming even, as if the annual Spring Unveiling truly brought in the warmth of Spring itself and could be found in the demeanor of the locals and the beauty of the sights. The woman at Bella Espresso served us salted caramel hot chocolates and let us use the Wi-fi even though the shop was closing. We spoke of the town and our families. (I forgot to ask why there are little green army men standing guard on the pillars in the shop.) Exploring Jupiter's Rare & Used Books introduced me to the owner and a history of the bookstore, its paper, and the artists who I have personally dubbed Cannon Beach's Rat Pack. The girls in the Chocolate Café have got to be the sweetest people I have ever met, and the artfully created truffles worthy of a photograph in any album. The Dragon Fire Gallery enticed with all the colors and mediums, and in the charming White Bird Gallery I just couldn't get enough of Scott Johnson's eccentric personality and watercolor demonstrations. Your beaches are very welcoming to visitors, and mine don't really notice if you are a visitor.
My beaches will overwhelm you. They will excite or upset you. Maybe both. Cannon Beach will relax you, soothe you, call you in for a great view, a good drink, and a breathable experience. It will beckon you and encourage you to just be.