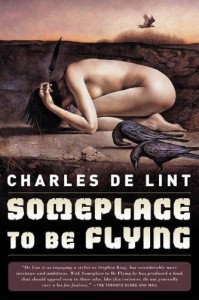 "The gardens of the first lands are still lying there, right under the skin of the world — pulsing the way our heartbeat drums under our own skin."
Thus quoth an indie rocker named Annie Blue in "Someplace to be Flying" by Charles de Lint. Blue points out glinting bits of wisdom to her friends, and readers like me who are latecomers to the mythic world she lives in.
Here's another shot of sapience from Blue: "What if the past, present, and future are all going on at the same time, only they're separated by – oh, I don't know – a kind of gauze or something. And maybe there are people who can see through that gauze."
People like Jack Daw. He's a fellow resident of Blue's world who gazes through that oh-I-don't-know-gauzy-something and tells stories to visitors at his dilapidated school bus. Daw talks about beings who are both animal and human, shapeshifters who've been around since the dawn of time. Which Blue knows damn well is non-linear.
Maybe you've heard tell of these beings. Indigenous cultures call them "Animal People," or "First People." They're so intricately woven into de Lint's novel that it takes nearly a third of the book to introduce them. And it's worth it.
Apparently there are as many kinds of First People as there are creatures in the animal kingdom. Annie and Jack have an affinity for "corbae" (a derivative of "corvidae") which includes crows, ravens, and magpies. Interactions between these feathered folk and humans are a focal point of the book.
De Lint's work draws masterfully from both folklore and scientific truth. When I worked as a field biologist, fresh out of college, my mentors informed me that ornithologists who study corvidae quickly learn that the crows are studying them. These creatures are among the most intelligent of all animals, having demonstrated self-awareness in mirror tests, tool-making abilities, and a total brain-to-body mass that is close to that of humans.
People who feel a close kinship with animals will be stirred by this book, perhaps even readers who are allergic to the word "fantasy." I'm not going to say more about the characters or storyline, because I relished the way everything unfolded without knowing any details. Even though the novel was published in 1998, few people I've spoken with know anything more about it than I did when it grabbed my attention at Jupiter's Books.
De Lint has cracked open a door in my mind to those "first lands" referenced by Annie Blue. I've started noticing all the crows that nibble off the highways while casually avoiding traffic. As I pass them I'm prompted to wonder what it felt like when humans first came here and the locals were all animals.
The feel of that primal meeting hasn't departed, in spite of man's best efforts to forget it. The more I partake of De Lint's work, the more convinced I am that those first locals are still around and have much to tell.