This short story was inspired by my frequent and prolonged contact with my Kindle Fire. I'll let you figure out how and post your guesses! Pondering this particular 'relationship' summoned the image of a prehistoric boy slipping into a cave and the rest flowed from there. Hope you enjoy!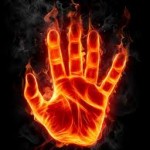 The boy squatted on the branch far above the trail. Pain pinched his legs, but he wanted to spring down on the horned-one after throwing his rocks. He couldn't miss it this time. The days were turning cold. He needed that skin!

He fingered three rocks in his right hand, sliding them under and over each other. They were hot with the fire of the gods – just like his hand. Ever since finding the sacred stones and running his finger through their strange grooves, his hand had burned. Everything he held burned, too. Which brought him to this tree. He knew cold stones could startle the animal in another direction and sharp stones could slow it down. But what could hot stones do?

Suddenly, brush cracked behind him and hooves thump-thumped under his limb. The dark brown flash was almost gone when the boy's arm snapped forward and three rocks smoked through the air and into the horned-one. The boy flung himself onto the trail with a whoop. Closing the gap on all fours, he leaped onto the horned-one's back and plunged his knife into its neck. He ripped down with both hands, gashing skin, until he slipped to the side and warm blood steamed over his knife. The animal leaned hard to the right, bruised a tree, then smashed a moss-covered log into thick red splinters and lay still.

The boy couldn't believe it. He had never brought down a horned-one with only his knife before. Red-handed, he howled at the sky as the horned-one heaved a last breath. Smoke wisped up from three holes in the hide. Plunging his fingers in, he pushed through wet flesh to find the rocks then yanked them out in a high fist as thunder roared and rain applauded. He had a skin!

Then the Beast roared behind him. He whipped around as it reared to full height — twelve feet — and bellowed a challenge. The boy dropped the rocks and ran.

A thousand footfalls later, he slid into the cave, back first, inching along the rock wall. His heart beat hard and water peeled off him into pools, making the floor slick. The rain was a beaded curtain over the cave entrance, glittering in its fall. Beyond, the Beast screamed in frustration at losing him. But it could not find him. This time, he had escaped.

Cool air scraped his legs and skittered under his rags. He should be covered in skins but the Beast kept taking them all. Retreating into an alcove, he squeezed against the wall which was slightly warmer than the air. Fumbling in the dark, he piled dried grass and small sticks and then struck rocks. Sparks mewled like newborns before being gathered by Mama Fire to her breast. Then they suckled and grew until shadows danced in fear and the cold whimpered away.

When he woke up, his hand still burned. He looked at the three lines that arced across his palm like rivers of fire through a desert. When he plunged his hand into a small puddle, it only hissed and steamed in protest; it did not cool him. Stupid stones. After an old ape on the mountain told him about the giant bird eggs that could not be broken, he had hunted them for months. But they weren't eggs. They were stones with strange lines grooved into them. He followed the lines again and again with his finger until he could make them in the air. But now his hand was fire and the four short lines that cut through his palm looked like the fire spears that fell from the sky during storms. Were the gods angry with him?

Thunder rolled through the cave like horned-ones and the glittering curtain flashed daylight before snapping back to black. He couldn't stay. He had to find cool — air, wet, rain, moss, leaves. These old friends would heal him from this mark of death. They would remove it. They would allow him back into their sacred midst, no longer a stranger.

So the boy made his voice like the wind and thrashed the trees. He stomped through green, bellowing, until giant leaves wrapped him in comfort-cool and whistled him to sleep. He would track the Beast tomorrow.