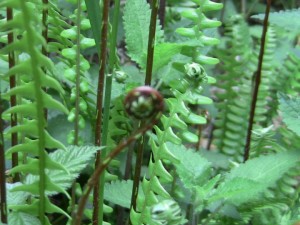 This is Oregon
Her coastline a tattered skirt torn from the sea
Stiff boots of stone propping
Up the dear old lady and baring legs of old-growth wood;
Her ferns are showing but she doesn't mind if you look.
This is Oregon
Who's mind is a fog that blows in all morning from the west
That burns at last into an afternoon light of recognition.
She is old after all, so who can blame her if she forgets
To turn off the faucet or take the cones from her hair?
This is Oregon
Who's used bookstores litter coffee table hamlets and bedside bordellos
Turned-down pages tattered with old-timey ideas of individualism and outdoorsmanship.
She ain't prim. Never carries an umbrella
But chooses to take on the rain straight out.
Yes, this is Oregon
Micro-brewed ale in a pint jar fist
With all her salmon fishery lumber factory clam digging Jesus radio hipster cities
Coffeed up on caffeine: She's all about cuisine and the finer fare
But she couldn't walk into a New York City restaurant in that get-up.
Oh, Oregon,
You've never needed lipstick to be gorgeous
Or store-bought perfumes to turn men's heads.
The other ladies with their state-line manicures abhor you!
There's not a self-conscious bone in your body.