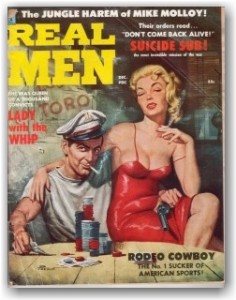 I think we need to quickly bring back the good old days of the "guy" magazines.  Maybe, just maybe, we could get some relief from the current phenomenon of the angry, conservative "hot talk" that fills our AM airwaves day and night.
As a young, curious boy of 12, my buddy Bobby and I would sneak into his dad's bedroom to find a copy of "Real Men" in his bed stand or some of a dozen other great guy magazines that you could see on the upper row of magazines at the local grocery store.  Now these weren't your nudie magazines like Playboy.  These were magazines with a common, overarching theme—real men use massive force to deal with threats—wild animals, corrupt dictators or common street thugs.  No situation existed that couldn't be resolved with burst from an automatic weapon.
These Real Men, guy magazines struck a cord with a group of men in America in the 1950's and 1960's.  They weren't quite like the much maligned "Angry White Men" (AWM) that make up 5% of the population and 80% of the hot talk radio audience.  My dad and Bobby's dad certainly weren't as vocal as the AWM's of today; they expressed their feelings about the world very differently.  They had issues for sure—an overbearing boss, anxiety about in-laws or keeping up the Jones, as they said.  These dads were both part of what is now called the "Greatest Generation," having fought for freedom in Pearl Harbor and Germany.  They dealt with the world about them by grabbing the latest issue of Real Men magazine, and reflecting on a world where problems can easily be solved with a few rounds from a machine gun or a "knuckle sandwich," where things weren't so damned complicated.
Today's AWM doesn't have the benefits of Real Men.  These magazines have fallen almost completely from popularity, like their companions on the shelf—Look and Life magazines.  Now the anger isn't orchestrated into fantasies of violent conflicts, but into violent talk.  As the video game replaced the comic book for my children, "hot talk" radio and it's brethren that is now invading the cable networks TV have replaced the guy magazine.  Issues are boiled into simplest of terms so one can get really angry with how stupid some bureaucrats or environmentalist or politicians are.  It feels good—to hate, to feel a little superior to those jerks and to have as your soul mates such brave guys as the commentators
So please, bring back the Real Men magazines, and for that matter, comic books would be great as well!