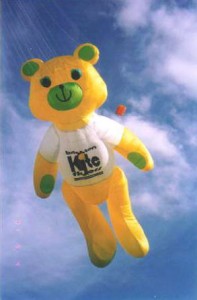 Bear drank a carbonated beverage — root beer.
Then,
He tied a rope —
One end to his waist,
The other to Moose.

The wind began to blow,
"Okay, I'm ready to go."
Wind blew,
Bear flew,
Higher than the trees — up over the ocean like a kite.

Moose dangled.

Bear and Moose crossed the breakers and on to the sea.

A sailor below shouted to Moose,
"Untie the rope you dope."
Moose did and landed on the poop deck.

Bear let out a long purposeful burp;
Hot air escaped and he floated nonchalantly into the surf.

Bear washed ashore at the end of Laneda, and walked to the coffee shop for a decaf.