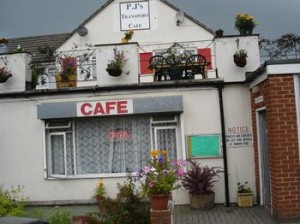 Back in the good old/bad old days of the 1960s, Britain's very few motorways or freeways were serviced by old fashioned petrol stations and even more old fashioned transport café's known in London as "Caff's", or more generally "Trannys". Caff's, which had been around for workers and truckers for years, served what could be called Plain English Fare or the ubiquitous British "Fry-Up".
This is – believe it or not – a nostalgic piece of the Britain I remember and a warning of their corporate, plastic, microwave-heavy cathedrals of bland, joyless, anti-social replacements that I need to avoid next time I come over from the US west coast (although I tend to travel by train over in Blighty).
The US truck stops are becoming increasingly plasticized too but there are still some holding on with flirtatious waitresses, "Breakfast served all day" signs, grizzled locals, some of the more courageous traveling families and weary truckers.
Anyway, back in these days, I played in several Scottish based jazz bands and "Trannys" were the life-saving stops that got us up and down the major highways. I treasure especially the large, white, thick mugs that held at least a pint of strong tea.
There was one place near (I think) Sheffield where the menu started with "Bacon and eggs" -then "Bacon Egg, sausage, Bacon eggs and beans, on and on until it culminated in a huge platter called "The Lot". If you could eat "The lot", a veritable mound of chips, steak, chops, beans, black pudding, bangers -Gawd knows all what -use your imagination to picture the pile of food on a trenchard-like, oval plate, you got a certificate and free meal next time you came in.
Well, our bass player Big Syd (RIP), a renowned trencherman, ate "The Lot" THRICE, with piles of bread and gallons of tea, to the astonishment of the proprietors, truck drivers, travelers and oddball customers. It was like a Hollywood scene, with a circle forming around our table and at the end a huge cheer as Syd burped, wiped his plate with a wodge of bread then asked "Is there any pudding"? All this at about 2.00 PM in the morning.
We never paid for a meal there after that!
Great entertainment value too.
Sadly, the plastic pretenders and fat-police are making such deeply human establishments a comparative rarity, like the American drugstore soda fountain – but decent truck stops seem to be at least holding on better here than their UK counterparts.
Culture is where you find it I guess.