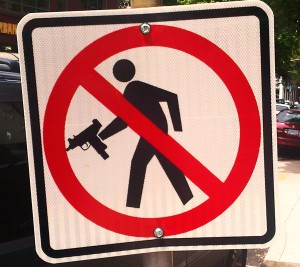 Someone would need to be buried in a prodigiously deep hole to have not heard about the tragic mass shootings that have plagued the US consistently over the last few years. Most recently, the horrible massacre at Sandy Hook Elementary School in Newtown, CT brought the continuous murmur of increased gun regulation to a surprisingly audible level. Each recent shooting, from Tucson to Aurora to Newtown, bears a frustratingly obvious similarity to the others: a socially inept, mentally ill but untreated young man legally purchases highly powered assault weapons originally designed for military use, then turns them on a large group of innocent people in a public place. One would think that after only one or two incidents the cause of these terrible slaughters would become apparent and the reaction swift; however, America's strange love affair with guns (and LOTS of them) has and continues to obstruct any measures that would do much to prevent such tragedies, or at least their frequency.
Americans, especially conservative Americans, really love their guns. This love of guns and the right to use them was present from the earliest colonial days, and was even the catalyst for the first battle of the Revolutionary War (British soldiers were on their way to Lexington to confiscate a colonial arms stash). A well-armed and organized militia was crucial to maintaining order in the early days of the nation, as there was little in the way of a standing army or centralized police force. However, times have changed significantly since the era of Patrick Henry and George Washington; the threat of imminent British or Native American attack is gone, and with it the need for armed citizenry. Yet the mentality remains. Having the right to protect yourself with guns is seen as an ultimate tenet of American civilization by the NRA and its members, and they simply refuse to accept the fact that gun regulation is only intended to keep these killing machines out of the hands of those that would misuse them.
It is significantly easier to buy and use an assault rifle in the United States than it is to purchase a car, and with online shopping, the veritable arsenal that Aurora shooter James Holmes wielded takes little more than a credit card to obtain. The tech website Gizmodo did a report on the shocking legality of online weapons vendors, which shows that the only thing separating an AR-15 order and buying the last season of How I Met Your Mother is a stop to the local federally licensed firearm dealer for a background check; however, this only entails running a name through a national database to see if he or she is a convicted felon. If not, have fun! As there's no official mental health test, the dealer can only withhold the sale if they themselves decide a person is insane. All of America's recent mass shooters did not display such visible signs of psychopathy that their weapons were withheld. Even standing in line at the DMV, let alone the driver's license tests and mandatory insurance, is infinitely more challenging than buying a weapon originally designed to spray a sheet of bullets at the Vietcong. There's a reason why the United States leads the developed world in gun deaths by 42.7%.
Steadfast gun owners constantly point to the idea that regulating the sale and use of guns is pointless because criminals intend to break the law anyway. The logic behind this is utterly broken. If Jared Loughner wasn't able to walk into the Tucson Sportsman's Warehouse and purchase his Glock 19 handgun, his rampage likely wouldn't have taken place. If a person with a credit rating of 2 attempted to get a good loan, it is highly improbable he would get one. Yet these people with a mental stability of 2 can walk out of the store with a gun as easily as the most law-abiding citizen imaginable. If mental health services in this country were as accessible as guns, perhaps none of the now infamous mass-shooters would've even had the motivation in the first place to carry out their horrendous acts. Sadly, a recent article by the Chicago Sun-Times reports that states have slashed their already-low mental health funding by $1.8 billion in only the last few years, leaving about 1 in 2 mentally ill people without treatment.
Inevitably, there are going to be psychos that defy all measures against them and commit horrible crimes; if Anders Behring Breivik can succeed in mass murder in a country as well-regulated as Norway, nowhere is truly safe. Yet there is no reason that America should continue to allow mentally ill, depressed young men to kill scores of innocent people in exchange for a constitutional right that's not really compromised at all. Hopefully it won't take yet another mass shooting to finally drive the point home.
This post first appeared in The Blue Collar, Interlochen Arts Academy's student newspaper.