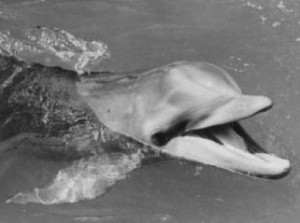 "I, I wish you could swim
Like the dolphins, like dolphins can swim"
David Bowie
Heroes
The name branded his kind for my generation. On Sunday evenings he was the messenger of a vast fluid world of possibility. His theme song summoned our oceanic sabbath, sitting in front of the TV.
They call him Flipper, Flipper, faster than lightning,
No one you see, is smarter than he,
And we know Flipper, lives in a world full of wonder,
Flying there under, under the sea!
As a little boy I thought he was one beautiful star. Now I know his part was played by six individuals — Kathy, Susie, Patty, Scotty, Squirt, and Clown — all captured and trained to entertain viewers like me. Kathy carried most of the load, so Flipper was really a she. The man who worked her had a come-to-Jesus moment when she died in his arms. He rededicated his life to freeing her kind from human cruelty.
"She was really depressed," said Ric O'Barry during a 2010 Earth Day interview. "You have to understand dolphins and whales are not [involuntary] air breathers like we are. Every breath they take is a conscious effort. They can end their life whenever. She swam into my arms and looked me right in the eye, took a breath and didn't take another one. I let her go and she sank straight down on her belly to the bottom of the tank."

Dolphins have received special attention from humans for millennia. They are our elders. Fossil records suggests they've been living on earth for millions of years longer than we.
One of the most important cultural centers in the ancient world was founded by Flipper. According to a Homeric Hymn, a dolphin jumped aboard a ship sailing from Crete and commanded the mariners to build a sanctuary at Delphi. The animal was said to be a manifestation of the Greek god Apollo. Apollo Delphinios.
My chiropractor – who's as brainy as a bottlenose and a scholar of Hellenic culture — says most of what we know about that cradle of civilization comes from invaders. He says earlier indigenous people were more peaceful than the colonizers who enslaved them. The natives adapted in order to survive.
Such behavior is common among our species. Might makes right, in the minds of conquistadors. So it's reasonable to assume that most of the stories about Delphi were manipulated by overseers.
Still, we might learn a few things by delving beneath the letters and images. "Dolphin" and "Delphi" are both rooted in the word for "womb." These marine mammals who carry their babies to term probably prompted respect from natives who revered women and birth. I believe that's why images of dolphins cover the walls of the Queen's room at the palace at Knossos.
The early veneration of womanhood is clear from archeological evidence. Last time I checked, in 2011, I could read all about it on interpretive panels about Neolithic culture that were displayed at the Athens airport. It was conveyed in the knowing smile of an old woman in the marketplace who sold us replicas of ancient figurines with stretch marks. My beloved wears them on earrings when she visits with homebirth clients.
Long before the arrival of Apollo's clergy, Delphi was a place of deep spiritual significance. The omphalos was located there, the navel of the Earth. It was protected by a dragon who was appointed by Gaea herself. Presumably the creature also safeguarded priestesses who served as Gaea's prophets, her oracles.
Apollo slew the dragon, pre-empting the legend of Saint George by quite some time. Then the god's devotees hosted seasonal festivals, presumably to ward off hard feelings among the locals. Nailing the dragon provided Apollo's priests with direct access to everything the creature had been guarding. The men assumed the office of wise advisors and erected their hierarchy at the center of the world.
Most of the written accounts that these dudes left us call the dragon Python, a word guys are big on, even to this day. The oracles were said to prophesy by inhaling fumes that arose from fissures in the ground, supposedly from Python's decaying corpse. No geological evidence of any subterranean vapors has ever been found. More likely, the women were subjected to intoxicants that left them exhausted after the priests translated their mumblings. Visitors paid handsomely for the ritual, and sometimes the oracles were abused in other ways.
I'd be a putz if I didn't think something very different was happening at Delphi before this Python rot came to town. The stories have been changed, no doubt, but we can use our imagination. Another moniker in the record offers a clue to the culture that rocked the human cradle before men kidnapped the baby.
The dragon was a female called Delphyne, a name that points directly to dolphins, especially since Apollo took the form of a dolphin at Delphi. And here's more fish for thought: the Greek word for dragon means sea serpent, a creature some researchers say were cetaceans (the biological order that includes dolphins and whales).
Go ahead, giggle. Dolphins don't seem powerful to those of us raised on images of Flipper. But maybe these small cetaceans were once thought to be the emissaries of leviathan. Check out this old coat of arms that harkens back to much older imagery. Note the toothy snarls and serpentine tails.
We hominids are weaned on monstrous pop icons – on stained glass, in comic books, at the movies. But I think the most horrifying thing about the womb-guard of Delphi wasn't her appearance. It was her creative intelligence. To invading patriarchs, Delphyne challenged their exploitation of nature and messed with their egos in a primal way. To them she was inhuman, ungodly, an abomination.
Queen of the deep, I'll call her, with poetic humility. The heady breath she spouted must have flooded their minds with fire. Probably scared the holy crap out of them.
And maybe her spirit is now rising from the bottom of the tank. Are we ready?

Though I squirm to admit it, my beloved is often smarter than me. She seldom reacts the same way I do when the hero comes back and obliterates the bad guys in a firestorm of righteous anger. The heavy metal drone of vengeance rarely distracts her from a kinder nature.
Few of us are prepared for that kind of wisdom. Some are trying, though.
I see it in a friend who communicates with animals yet is mocked by many in our village. The boys at the pub speak of her in ways that probably replay the male-bonding of priests who chuckled at the oracles. I suspect churchgoers dismiss her for communing with beasts rather than submitting to religious authorities. One buddy of mine rolled his eyes after reading her post about messages from whales; describing it as "weird" (meaning "incredulous"), even though he's open to the idea of aliens, bigfoot, and some sea monster that allegedly swims near Vancouver Island.
This morning the message was for us. For humans. The ones who need to wake up. Their society long out-dates ours. "We teach our young the world of the whales, as you teach your young the message of being human. But you have lost your way. It's not too late, you can each clear the Mother and make her whole again. Simply by feeling love in your heart space and passing it on."
I believe Lisa is telling the truth as she understands it. Part of the reason why I think so is because I've seen how her contact with animals has changed her. Years ago she was one the most downcast people I knew. Then one day she was glowing like a star. Said she'd just returned from a swim with the dolphins. The transformative power of the experience was beyond doubt.
Our society could learn a lot by listening deeply to animals. Children, too. Recently at breakfast I thanked our daughters for teaching me to be a better man. I said I'd learned more about what it means to be human while speaking with them than I would have if I'd spent the same time conversing with adults.
I told them this because I felt a little heartbroken about something that happened the night before. A young person had registered at the Upper Left Edge, and within a short period of time she had posted ten comments and three poems. This rare show of enthusiasm for the website was gratifying. But when I discovered her age, I had to remove her words. As a protective measure, all registrants must be at least 13 years old.
I sent the girl an email saying I'd be honored to post her work in a few years. I also recommended two online publishing venues that cater exclusively to children. She wrote me back with an eloquent apology.
Still, I woke up in the wee hours thinking about those big bold letters on our masthead. It pains me to keep the voice of a young author secret. So I put aside my other projects to compose this post, inspired by the girl who wrote "I LOVE DOLPHINS!"