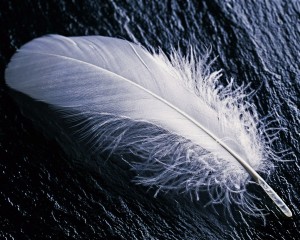 Artificial Love
Slender petals
plucked one by one
is how humans
process 0101:
is there Love
there is none
is there Love
there is 0001.
The one who plucks
inputs the function
Worry: does he
love me or
the program learned,
compatible
with his machine.
The daisy, depetaled,
outputs Desire (beta):
love my tangled circuitry.
Feathered Heart
for little MLS
Feathers did not evolve for flight
as every chicken knows, flight
came to be from feathers– the
archaeologists have clearly shown. And
the chicken, they did conclude at last,
first burst from the egg; much later
she found and crossed her road.
So test, sweet one, the hollow quill.
Cup gently a pregnant shell.
Though feathers did not evolve for flight
still a lightened heart grows wings.
Dump Stew
In creating, look askew
what you're making isn't you
though that of course, you also do;
the life leftover is Art's dump stew.