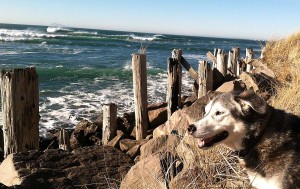 Jetties fascinate me. They teach me poetry and physics, life and death. They represent solidity and evanescence, ambition and ignorance. They are black and jagged, gray and serrated. They whip up a kind of slippery, spraying, salty ocean margarita I love imbibing. If anything can be said to be rock and roll in nature, an oxymoron of course, jetties are it.
In recent months, I had the occasion to spend significant time on three imposing jetties on the Oregon Coast: Siuslaw River in Florence, Yaquina Bay in Newport and the mightiest of them all, the Columbia River in Hammond. When I investigate these jetties, my mind and body begin racing and I often compose lines in my head or just listen to the uniquely thrilling sound of waves pounding unceasingly against the rocks. Or, sometimes, I simply watch the massive energy of these places pound and recoil and I shoot photographs with my camera or eyes.
What follows is a stream of consciousness inspired by jetties. I doubt it will be contained, meaning the jetty society often demands of us (particularly in high schools) will have failed its ultimate purpose. I sure hope so.
• The decade of the 1890s was the golden stone age of jetty construction on the Oregon Coast by the US Army Corps of Engineers. They built one-way, one time railroads into the ocean near the entrances of multiple coastal rivers or bays, transported huge boulders on flat cars, dumped the boulders overboard, raised the walls, and then ripped up the rails and left trestles behind. Within a generation, these jetties reshaped the coastline. I don't know if that was a good thing.
• The term jetty originated from the French word jetée, "thrown" and that about sums it up. Speaking of the French, when Napoleon invaded Egypt, his troops scrawled graffiti inside the Great Pyramid of Giza. That pyramid, built in roughly 2500 BC, will outlast every jetty built on the Oregon Coast.
• Jetties were meant to fix a wild river or unruly bay permanently in place, make them safer, more defined, useable, practical, pacific. Sadly, most Americans have never seen a real river with a miles-long floodplain and shifting braided channels. They've all been diked, dredged and commanded to conform for commodification. If you want to see what a real river looks like, go to Alaska. Until I did, I had no idea.
• I can think of three scenes I wish I could have witnessed from American history: 1) Benjamin Franklin flirting at a party; 2) Emily Dickinson writing a poem in her room; 3) The Columbia River as Lewis and Clark saw it in the rain.
• In 1975, a band called Dr. Feelgood released an album titled Down by the Jetty. Incredibly, it does not include a song about a jetty. In 2011, a band called Panda Bear released a song called "Last Night at the Jetty." Incredibly, it does not include the word "jetty."
• Has any Oregon band written a dirge about Bayocean, the ill conceived beachfront resort community that slid into the sea after the construction of a jetty near the entrance to Tillamook Bay hastened erosion on the spit? I have heard that a semi major Oregon writer is working on a novel about the last resident there. Naturally, the book will follow the trend toward dystopian storytelling in our culture. Can anyone ever again write a utopian novel in America?
• I find it interesting that whenever I climb atop a jetty, Sonny the husky howls in protest. She won't stop until I get down. Maybe it's like those dogs who can detect cancer in their owners earlier, cheaper and more accurately than conventional ($$$) medical testing.
• Jetties have created some of the state's best surfing spots. Not too long ago, I encountered several surfers braving the ocean at the south jetty on the Columbia River. How they weren't hurled against the boulders and bashed to smithereens, I couldn't fathom. I watched for 30 minutes and nothing bad happened, although no one rode a wave either.
• Due to their intimate proximity to Newport, the Yaquina Bay's jetties are the most communal on the Oregon Coast. My friend Dan fishes on the south jetty and regales me with tales of meeting some very strange people around midnight. He often wonders why with a mile or so of jetty to choose from, a vehicle has to park right next to him when no one else is around. He doesn't like that. He doesn't want to talk to anyone at the jetty, and I don't either.
• The jetties of Yaquina Bay are also deadly. In November 2010, waves swept a married couple off the south jetty, pretty much in plain public view. They had traveled from Portland to Newport to celebrate their 15th anniversary and stayed at the Sylvia Beach Hotel. Apparently, they had pedaled their bicycles across the Yaquina Bay Bridge, out to the south jetty, parked their bicycles, and walked to the end, their end.
I passed them on the bridge that day. I remember thinking it was a beautiful day for a ride.
An eyewitness told a reporter, "We must have had about seven monster waves in a row, and then they (the couple) were gone. Another eyewitness said the last he saw of the couple, the man, "had his arms wrapped around the light stanchion…and she was crouching among the rocks behind him…" The Coast Guard recovered her body that day. His remains washed up near Yachats two weeks later.
• Last summer, on a sunny afternoon, I snoozed in the dunes near the north jetty of Yaquina Bay. There wasn't an ominous cloud in the sky and hardly a breeze ruffled the sand. Still, the bar looked treacherous and I didn't see a boat on the water. Whitecap waves broke across the boulders of both jetties and no one (local) was dumb enough to venture down them. Out of nowhere, materialized a young Russian couple dressed in traditional Old Believer garb. It felt almost like a honeymoon outing. They walked silently past me to the north jetty, weaved through the security gate, and strolled hand-in-hand across the rocks. They took lovesick pictures on their phones. I thought about running after them, offer a warning, but I didn't and don't know why. I watched them the entire time until they returned, leapt off the path, and disappeared into the dunes. That one monster wave didn't come. It did come, exactly ten minutes later, exactly where they once stood. I would have seen it all.
• One last thought: please, Sea Gods of the Universe, never let a jetty form in my mind or heart…or writing! I'd rather die and reincarnate as a hunk of riprap protecting a trophy mansion.
Matt Love's latest book, Of Walking in Rain, is available at nestuccaspitpress.com and coastal bookstores. He can be reached at lovematt100@yahoo.com. You can also visit http://nestuccaspitpress.com/blog/ to read his blog on rain.