She stood on the lower deck of the ferry. The wind beat her face and the salt stung her eyes. But she didn't care: ahead was Seattle.
Downtown's glittering spires rose from brackish water like the tip of a submerged fantasy kingdom. Gulls screeched escort overhead, defying currents, until knifing down and whipping back out of view.
She already loved this place.
It was everything Kansas was not.
Near the water. Shielded by skyscrapers. Protected by a mountain rising white on the horizon to her right. She'd be safe here. None of those black monsters chasing you over open plains.
In Seattle, it would never drop below zero. Never stifle with heat. Who cared if it chose gray skies and rain as adornment? It beat having cheeks carved by minus-degree winds.
Kansas was farmers and small towns and nothing to do.
Seattle was opportunity. Freedom. The chance to reinvent yourself.
But most of all, it was far away from stupid childhood stories. Stories you wanted more than anything to believe. Stories your grandmother, bless her sweet, sweet soul, told you were true. Stories of silver shoes, carnival balloons, and yellow brick roads.
Stories that made your heart ache — because you'd give anything to be there. There, instead of wherever you were. Instead of Kansas.
The buildings half filled the sky now. Behind her, cars snorted and trucks pawed the deck like bulls, their fumes swirling her into dizziness. She grabbed the post of the chain fence in front of her for support. The ferry horn blasted its arrival.
With that, her pre-transfer briefing kicked in. This was Seattle, where you could walk around any corner and buy the strongest heroin on the west coast; where last year saw a 71% increase in heroin overdose deaths; where college kids collected drugs like stamps and sold them on the internet; where 50% of the executives used marijuana; where high school dropouts were too dope-sick to think about the future, and when they did, as one said in the video, "…it's too late." She remembered his face: a landslide where a cliff should have been.
As the docks loomed, the ferry engines jolted into reverse, and green bubbles churned from below. Blackened moorings, vertical piers roped together with gulls nests on top, stood on the side to catch, slow, and nudge the boat into perfect alignment with the docking ramp. But, she wondered, weren't they going too fast? The vehicles revved behind her. The engines shuddered below her.
Drugs were the unseen world in this Emerald City. They were everywhere: in pockets, cars, and bedrooms. Research said 30% of the cars behind her held drugs. 42% of the drivers were users. And that was before the legalization of marijuana last year; the jumpstart of a 'weed rush.'
Now corporations were moving in. Hiring fellow agents as consultants. Promising investors a five billion dollar industry in five years.
In the whine of engines behind her, she could hear them all. The murmur of Seattle: "I taste freedom, I taste creativity, I taste the future, I taste the success of Seattle and the world. Planes then software now weed will save the world."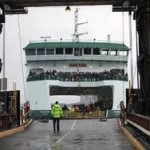 The ferry thudded into the moorings; they stretched taut, nudging it center. Now it would align with the metal grating waiting to be lowered, the ramp penned beasts would growl over to reach pavement and freedom. It was all that bridged land and bay, life and death: that thin, corrugated ramp that 'banged' with each crossing.
Without it, she saw them tipping, hood over edge. She heard the drivers scream. Saw them wave desperately as they plunged into green churn and sank into darkness. It was the ramp's job to help them safely cross.
It was the DEA's job, too. For drug users trapped and sinking. Hands and faces pressed to windows. Bubbles rising. Gloom ascending.
But sometimes they failed. And when they did, it was her job to smash the window.
"Special Agent Thomas?"
She looked up at the two men in suits and long coats standing on the ramp as it screeched into place. One of them extended their hand.
"There's been an emergency. We need you at headquarters immediately."