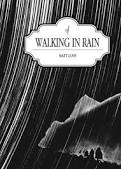 Imagine a secret society devoted to rain, rooted in the rich, sodden soil of the Pacific Northwest. Members recognize one another by the soaked state of their outerwear, hair plastered to glistening foreheads, eyes wild with the prophetic water that they invite to run down their faces. They exchange secret handshakes with slick hands and wrinkled fingertips. They gather in cabins moldering beside rivers, where rain infiltrates through a fallen roof and slides down walls padded with moss. They build statues of rain gods out of umbrellas and dance around them as the torrents flail them into saturated ecstasy.
If there were such a secret order of rain mages, Matt Love would be its founder. His latest book, Walking In Rain, is a gem left outdoors to be polished by the relentless, celebratory water of our region.
Through diary entries, prayers, and polemics, Mr. Love challenges the negativity that pervades descriptions of Western Oregon rain. In addition to being a writer and publisher, Mr. Love is a long-time educator, and some of his diary entries recount the results of sending his students out into the rain to inspire their writing. His respect for his students shines through these vignettes (perhaps a better image would be "soaks through") as he entices them to immerse themselves in nature and life, especially those elements of life that aren't Hallmark-soft.
Mr. Love doesn't just rehabilitate rain, and he certainly doesn't apologize for it—two moves I often notice Pacific Northwest residents making with visitors from drier areas. ("I know it rains a lot here, but it's really pretty…") Instead, he extols the centrality of rain to this ecosystem and its ability to sort the hardy and resourceful from the delicate complainers. In an extended meditation on rain versus sun, he declares, "I want to overthrow the hegemony of the sun" (p. 28). He proceeds to ally rain to heroes, rebels, and artists and consigns the sun to a conforming herd: "Rain is wanton, exciting, the sun constant, boring. Rain gallivants, the sun merely beams. Rain inebriates, the sun makes you drowsy" (p. 29). He associates the sun with people who destroy environments and societies, from gun enthusiasts ("Rain ruins guns, the sun keeps powder dry"—p. 29), to real-estate developers who demolish landscapes ("Developers despise rain; they love the sun"—p. 30), to the founders of hierarchal religions that glut themselves on inequality: "None of the cruel, paternal, monotheistic religions ever originated where it rains a lot. They sprung from men, deserts and heat" (p. 32).
Rain urges Mr. Love to engage in luscious damp-fueled fantasies. In one of these, he invites readers to become part of his imagined First Church of Rain: "My church would worship rain, read rain as scripture, and taste sacramental rain from shot glasses" (pp. 21-22). In another, he recalls an epic Civil War football game where no one scored because they were playing in a deluge: "Rain made both teams gloriously inept and made sports history that afternoon" (p. 45). In tones alternately exuberant and prophetic, he honors the glory of rain and dismisses its detractors, whether they're disgruntled, umbrella-toting local or complaining tourists who stay in their hotel rooms for their whole vacation.
This book is for everyone who lives in this rainforest region and loves it, as well as for "outsiders" who are open-hearted enough to reconsider their fear of precipitation. I encourage you to read it before rain-hating relatives come to visit so you can declaim choice quotes as they're shaking out their umbrellas on the front steps. In the meantime, wipe the moisture from your face, put your wet feet up, and bow your head at the altar of rain with Matt Love.