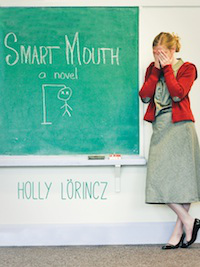 At the age of 23, Addy Taylor still feels too awkward and half-grown for adult responsibilities. Yet here she is on her first day teaching English at Oceanside High School, and she has already fallen prey to a trick chair that collapses under her, becomes drawn into adolescent dramas not too different from her own young-twenties troubles, and lets the bossy assistant principal inflict on her the role of reviving the school's long-defunct speech and debate team. When she escapes her classroom on that first tumultuous day, she then has to contend with her moody boyfriend's increasingly erratic, emotionally abusive behavior. Despite her apprehensions, she becomes engrossed in working with her quirky group of "speechies," for whom she develops genuine caring, and grows in competence and confidence along the way.
There's a venerable genre of novels devoted to teachers making a positive impact on the lives of students with challenges (poverty, discrimination, learning disabilities, abusive family situations, and so on) and experiencing self-growth at the same time. Ms. Lorincz's novel is a worthy new member of this "club." Her vivid but polished writing style and expertise (she is a nationally recognized, award-winning former speech and debate instructor) contribute to the reader's enjoyment, but what really engages is her talent for entering the inner worlds of youth with unsparing authenticity. The slang and the technology may belong to millennials, but the feelings—self-obsessed, struggling between idealism and cynicism, and mired in the embarrassment of out-of-control sweat and sebaceous glands—are timeless. Not only does Lorincz delve into universal adolescent excruciations with bittersweet humor, but she also explores grimmer issues, such as self-mutilation and enmeshment in an emotionally abusive relationship, with concern, clarity, and truthfulness. The novel treats so many profound themes, through characters the reader comes to care about as much as Addy does, that it feels weighty at the same time as the brisk pace of events generates a quick read.
Lorincz's honesty will not appeal to every reader. Painful moments are the hallmark of adolescence, and some adults squirm away from recalling them. They may be put off by Lorincz's frank evocations of, say, how a van full of teenagers smells after a busy day at a debate tournament, or her faithful reproduction of their conversations, where four-letter words are used as nouns, adjectives, verbs, and punctuation. Others might find Lorincz more forgiving than they would be of Addy's abominable boyfriend. (As a third-generation feminist, I was saddened that almost two hundred years of women's rights activism has not prevented young people from choosing partners who attempt to control their lives and undermine their self-worth.) Please, don't let these discomforts keep you away from this terrific book. Whenever I found myself twitching as unwelcome feelings surfaced from my own adolescence thirty years ago, I reminded myself that a book with high-school protagonists would be incomplete without these humiliations small and large, internal and (worst of all) publicly witnessed and ridiculed.
I enjoyed taking this trip with a lively group of angst-ridden, pimple-plagued teenagers and their not much older team leader. It's my hope that Holly Lorincz will grace readers with another excursion into their world—perhaps a few years older and savvier, but enfolded in that same genuineness and affection with which she has given them to us here.