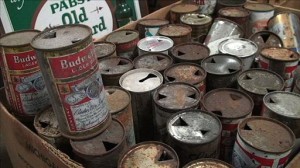 What ate the daylight yesterday—and many days of the past month—was drinking cheap 5.9% alcohol per content beers with men 60 plus years of age. Cranky men, clinging onto beer cans as if their nostalgia depended on it. Maybe a lifetime of drinking dilutes experiences enough so that ageing and learning from life slips by unnoticed. Then again, maybe it's just Philadelphia that's bereft of wisdom. There's something about these beers that invigorates these men. Otherwise they are entirely grumpy and slouched over, suffering from a 60 year stomach ache.
Except for one old man. Upon the exchange of initial pleasantries he had introduced himself to me as Steve. However, his housemates call him 'Blue', borrowing the nickname from the old man in the movie "Oldschool", whom he bears an uncanny resemblance to in appearance.
I, on the other hand, prefer a nickname more original, personal. I've always thought–because of the young age that my beard appeared—the Native Americans would christen me with the name Youngbeard. But Steve exemplifies the idea more than me. He's young in thought–the only open minded, passive, thoughtful, and happy of the 3 ilk I've been drinking with. And, above all fitting attributes, he casually sports a thick white beard which swallows the majority of his face.
He is frequently seen stroking the hairs of his chin in contemplation before saying something like, "I just wanna say it's nice to be eating with everyone this evening and that I am happy." He surprised me with that observation yesterday.
I met Youngbeard at my job and eventually was invited over to his room in a pre-revolutionary war building which was redone and sectioned off for weekly rent without a lease. He drew my attention easily because of his beard's glory; a beard demands respect. His voice is particularly peculiar—a gently low tone saturated in a synesthetic white static sliding rasp, like a lost radio wave of a kid, far away, telling make-believes before going to bed. The top and bottom rows of his teeth are lonely and the lack thereof seems to unintentionally fragment his voice's wind.  Verbal articulation is whittled then sent on it's way. Whistles attached to words.
He's easy to humor and a breeze to talk with. A trove of stories, making me the grandchild overeagerly leaning in, trying to absorb it all. Stories about magic crystals that I ought to set out and search for or how no one should be frightened of the ghosts haunting his room.
He is 'edu-mah-cated', as he frequently reminds us all when our egos have been lubricated. He's worked with computers throughout his career life—something about systems analysis for various medical equipment corporations. I think he enjoyed the work very much because he now seems to shiver in the shadow of a computer science career's prestige. It is then I am exposed to the depressing qualities of his liquid addiction, and try to re-focus him on drawing me a map revealing those illusive crystals.
When Youngbeard starts to slur, his stories center around this old life of his and the bitterness he harbors for the "Motherfuckers" who—well…I'm actually still unsure of what they've done. Nor who they are; he uses the label ambiguously, referring to a multitude of traitors.
And if the sun is out, his shirt if off.
Each time I've visited this elderly commune there has been arguments beyond debate. Only once did they become physical; most are just hot steam through and in painfully sober ears and lips. But with a comforting case of beer in the fridge, these men are quite jovial with each other–mostly at the thought of getting drunk. This intrigues me enough that half the time I will buy them the case in order to reproduce these social effects. This affords me 1 shower, 1 load of laundry, 1 home cooked meal of varying quality, plus or minus 8 "natural ices", 1 bike ride to the beer distributer, and infinite entertainment—the destroyer of boredom. The fights are well worth the $15.11 cost of the case.
Yesterday, a loud fight broke out between Rob and Stewey, the other two elders who are guaranteed to slowly creep from their rooms when the lovely sound of Youngbeard and me opening the first cans escapes the confines of his room, echoing promises throughout the commune's halls. They fought over the existence of a cult in Northeast Philadelphia—the underdogged suburbs of the city where they all grew up and have never left.
The fight was sparked by a talisman I made from opossum vertebrae which hung from my neck. It raised a lot of eyebrows and the redundant question: "Where'd you get that?"
"I found it in the forest"
"Did you eat it?" Stewey inquired, incredulously.
"Nope, I found it scattered amongst some other bones."
"What the hell is it?"
"Opossum I think. But maybe skunk. I'm not entirely sure; the skull was gone"
"Why is it your necklace?"
"I'm trying to summon the courage to live as liberated as my friend the opossum. Or to learn from the ways of the skunk: defense in a fetidly nonviolent way."
"You're a weird little camper huh?"
"I suppose I've been spending 'lotsa time in the woods lately", I said, full of pride.
"Yeah, no kiddin'!"
He sipped his beer.
I scratched my head.
"So, where'd ya say you found that skeleton?"
"Where I've been living–on the southern edge of Benjamin Rush State Park."
His eyes switched on, like lightbulbs behind pupils.
"You better be careful back there! There used to be a cult who'd sacrifice small animals to the devil an' shit!"
"You think that's what killed this?" I held up the talisman in display.
"Shitch yea! They're probably still around!"
"Wait—you mean like an 'Are You Afraid of the Dark' type cult?" I asked, jokingly referencing a children's program I watched before I got a beard.
"What's that?"
"Nevermind.I don't believe it."
"I aint afraid of no dark!"
The lights in his eyes became fiery, devolving to a more primitive source of illumination.
"Forget about that! Did you see this cult?"
"Yes, 27 years ago! I was drunk as shit, walking home at night. I saw them right over there."
Stewey pointed north, towards the state park where I had been sleeping for a month.
"They were carrying torches and wearin' dark robes an' shit–floatin' by in the distance! I saw them and said 'Ohhh Noo-oh-oh!' then turned around to get the hell outta there!"
"Yeah? How many were there?"
"Tons! I couldn't tell ya. A lot! I'm not lying; I swear on God's honest truth!"
I was skeptical, he was loud, and it went nowhere. It just reaffirmed that Philadelphians are scared of the woods. But, it ignited an argument that started with Rob interjecting, mysteriously offended by Stewey's claims, "You didn't see no cult!" then somehow ended with Stewey screaming, "I'll put anything I want in your refrigerator!".
Words were bounced back and forth—senseless words propelled by an even more senseless rage–ping ponged from face to face which were 6 inches apart. The argument's threshold was surpassed and Rob wrapped his skeleton arm around Stewey's neck, putting him in a headlock.
If it weren't for the brittleness of Rob, that may have been the end of it, but Stewey is the least alcoholic of the three. He's jobless and bums as many beers as he can with his anti-charm, which strangely works on a drunken Philadelphian. His bumming of beers isn't enough to nurse a liquid habit. He's barely a drunk.
However, Stewey is loud and well fed. Well enough to effortlessly break the haggard headlock he found himself in yesterday and dragged Rob out into the living room. Stewey took the advantage by wriggling out of Rob's dilapidated armpit then threw Rob to the foot of the stairwell all in a bone creaking scuffle.
Their harem of on looking hags had begun to wail and it was then that the surrealism hit me: "How did I end up here?"
I walked into the room which was erased of people due to the fight. I shut the door, lit a cigarette, then took a nip from the opened bottle of bourbon we were all planning on exhausting after the cheap beer ran dry. The old people got to me—the screaming became too loud for me to find my breath.
Outside the door I heard everything: creaky floorboards and knee joints weaved with yelling. So much yelling.
I gathered the things I brought with me. While doing that, I heard Stewey's frustrated gait and swearing in his room directly above the one I had taken sanctuary in. Rob was yelling about the refrigerator at the old women who don't live there but are always lurking around the kitchen, smoking Virginia Slims over hoarse laughter and the incessant hacking up of antiquated phlegm
My possessions packed, I snuck out through the kitchen then out the back door unnoticed by habitants of the elderly commune. To my surprise, I stumbled into Youngbeard, sitting in a rainbow lawn chair in the backyard wearing solely shorts and sunglasses, smiling up at me, already prepared to cool my anticipated onslaught of heated cynicisms towards his alcoholic comrades.
Without turning his head towards me, he said, "Motherfuckers do this all the time. It's some stupid shit."