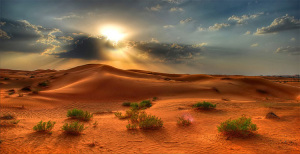 I imagine you a desert flower,
succulent and needle-sharp
on the cracking white earth.  The color
of mango, or a woman's wet lips.
I imagine you a man pinstriped
and proud at his first daughter's wedding,
eyes shot red with joy
and loss. I see you as lovers drawn deep
beneath the surface, as mortars storm
outside their room, unheard.
I imagine you a boy slipping bread
to a small, ribbed dog, or a woman placing a date
on her husband's steady tongue. I see you
as old friends—hands entwined—step
by step on a rock-strewn stream.
You are a tall cedar, Iraq, a heart beating
beating in a body wracked with pneumonia.
I will imagine you in your many groves
of love until the time you are free, free
as the night you first learned how to dance.