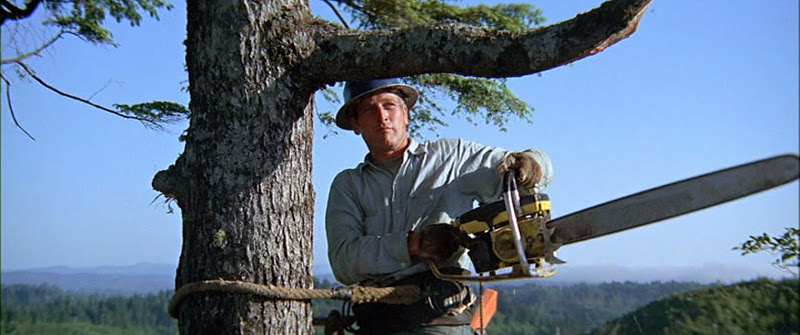 The first time I read "Sometimes a Great Notion," I said it was like eating a Napoleon…so many layers. I was impressed by the accurate portrayal of logging in the Coast Range and I identified with Leland, coming home to his dysfunctional family after years in college, similar to my own experience. Reading it a second time, I saw Hank Stamper as a hero and began identifying with him.
Logging and commercial fishing are neck and neck in a race for most dangerous occupation in America. During some years, as many as 118 loggers die on the job, a death rate nearly 30 times that of a typical workplace, with most of them killed by falling trees. Statistics from a different year will show that fishermen have taken the lead with 115 deaths, usually by drowning.
My stepfather Carl, a gyppo like the Stampers and the son of immigrants, was sucked into a logging outfit run by his patriarchal, grouchy Swede father. The "company" consisted of the father, my step dad, and his younger brother, who after the old man died, got out of logging and into working for the local PUD. Carl was diffident and unassuming and continued logging, topping and falling, and running a crew because that's all he'd ever known.
As I re-read "Sometimes a Great Notion," I thought about Carl going out into the woods in the Coast Range rain and muck, resigned to cutting the steep slopes and little patches Crown Z's big corporate logging people didn't want to mess with. In the book, the Stampers are warming up to do some old-fashioned logging in a state park where cats and donkeys aren't allowed. I know what they're facing: big trees in a canyon, too big to leave behind but so dangerous as to give even the most seasoned logger pause. This is what my stepfather faced all too often.
Is this bravery? Yes. Is this heroism? Hank Stamper is a classic hero in that he does so many manly things very well: Sets high school records in sports, good looking and a bit of a lady-killer, always wins in a bar fight regardless of the opponent, keeps on keeping on when others would relent…although he'd like to. How many men who work in dangerous trades, or physically exhausting and mind-numbing occupations like hanging sheet rock, dredge up bravery every day just by getting out of bed and going to work—often without complaint. As a female, I can stick to the soft stuff, work where I'm unlikely to get killed, worn out by the work, or broken in some part of me.
When I'm reminded of "traditionally male" occupations and how closed they seem for women—like logging and fishing and electrical linemen and heavy equipment operators and even tow-truck drivers—I realize their masculine aura is a combination of physicality and plain old endurance, exhibiting everyday bravery of a certain sort.
POSTSCRIPT: As a volunteer at the Oregon Country Fair's Energy Park, I often saw Ken Kesey at the Springfield Creamery booth right next to EP. Quite by accident, I once smoked a J with Kesey and a couple other people pre-fair. But, even in these relatively comfortable surroundings, I was so in awe of Kesey's writing that I never had the courage to say one peep to him about my admiration for his work.