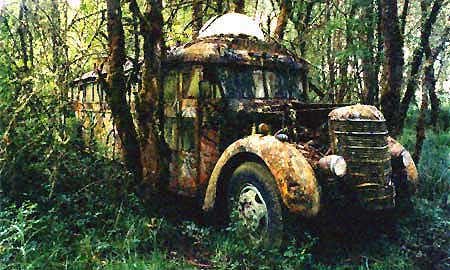 The rumbling drone of machinery began before sunrise, when birdsong would have otherwise greeted the dawn. Sleep was cut short on weekdays and many Sabbaths over the summer. On occasion I could tune out the racket, just slip back into dreamland. But most mornings I'd lay there, absorbing the edgy contrast of first light in a forest filled with industrial noise.
Often I'd grab a book from my bedside stacks, treasures gleaned from the bookstore. I'd read while swaddled in that ambient edge, perhaps some poems by Sherman Alexie, Gary Snyder, or William Stafford. Maybe an essay by Wendell Berry or Terry Tempest Williams. The words summoned fresh perception as the light grew brighter and I listened to the falling woods.
After the cutters were finished, 50 acres of forested watershed near our home was pretty much gone. Familiar habitat was replaced by strips of trees surrounded by stumps, slash, and orderly heaps of logs — cash crop to grease the skids of our consumption.
I'd also read The Electric Kool-aid Acid Test by Tom Wolfe. The classic boomer testament has been on my list for decades. Touted by hippie elders, it was sort of a sacred text to our beloved Reverend Billy, who grumbled a while back when I told him I'd skipped that basket of words. Finally the timing felt right. Perspective changes when we've been away long enough for the hype to settle, when we can revisit the scene without fear of being detained by hungry wolves.
The book is basically a biography of Ken Kesey, patriarch of the insatiable 60s and author of the greatest logging novel in the history of the world. It offered context for his tragic masterpiece — Sometimes a Great Notion — which pits man against nature, brother against brother, logger against logger, and individuals against collective control.
Both Acid Test and Notion are written in a swirling omniscient style that befits the era in which they were crafted. The authors spiral through the minds of their subjects, much as Kesey did in real life with his fellow pranksters. Wolfe says his own use of the style was an attempt to recreate the subjective reality of Kesey and his clan, who become renown for testing themselves and others with psychedelic drugs.
The CIA test-drove them first. In 1959 Kesey volunteered to be one of the alpha lab rats in the Agency's study of LSD and other "psychomimetics," as they were then called. That was when Kesey was a graduate student at Stanford, and worked nights in the psych ward of a nearby veteran's hospital. The Agency hoped their study would enable them to engineer human behavior. The testers were clueless, as far as Kesey could tell, but he was an able young subject and would sometimes chat with patients while tripping in the ward. He got so much out of it that he hijacked some samples and took his own version of their test out on the road.
The most popularized part of Acid Test involves Kesey's cross-country bus trip with fellow testers who called themselves Merry Pranksters. Kesey used a cash advance from Sometimes a Great Notion to finance the trip so they would arrive in New York when the book was published. They named the refitted school bus "Further" and filmed a zonked documentary of their journey.
But that cross-country trip was just a few chapters of the book. What the pranksters really wanted, apparently, was to remove the everyday boundaries between individual subjective realities, to explore forms of living in which there would be no separation between actor and audience, ego and non-ego, "me" and "us."
They started at Stanford, while Kesey completed One Flew Over the Cuckoo's Nest and as he began writing Notion (with notes he gathered from loggers in Oregon). They did it while he was finishing revisions of Notion in La Honda, where Kesey bought a cabin in the redwoods.
On occasion Kesey went up into the forest to get firewood. While joining him, one of his colleagues observed: "Kesey wasn't primarily an outdoorsman. He wasn't that crazy about unspoilt Nature. It was more like he had a vision of the forest as a fantastic stage setting…in which every day would be a happening, an art form…"
Kesey's vision of the forest included gobs of audio equipment spread out among painted trees and weird objects. The redwoods became a grand alter to collective prankster artifice, an objectification of their tribal ego.
"Huge stripes of Day-Glo green and orange ran up the soaring redwoods and gleamed out at dusk as if Nature had said at last, Aw freak it, and had freaked out. Up the gully back of the house, up past the hermit's cave, were Day-Glo face masks and boxes and machines and things that glowed, winked, hummed, whistled, bellowed, and microphones that could pick up animals, hermits, anything, and broadcast them from the treetops, like the crazy gibbering rhesus background noises from the old Jungle Jim radio shows….And Bob Dylan raunched and rheumed away in the sphenoids or some damned place—"
Those words would have compelled me if I'd read them in high school during the late 70s and early 80s. Back then I felt like I was recycling the 60s counterculture — sporting weird colors at the mall, guarding the turntable at parties while David Bowie prompted shouts of "cut that weird shit and play some Skynnard!" In response I'd crank up the volume of Bowie's Scary Monsters, turn on the strobe I'd purchased at Spencer's Gifts. "She opened strange doors that we'd never close again…" Bowie was for me what John Coltrane was for Kesey in Notion, what Dylan was for Wolfe in Acid Test – a kind of strange new tool to assert dominance. On occasion I'd tote my Bowie knife down the road and drop in on metal-heads parked at the unraveling bounds of suburbia. We'd flash our teeth and compete, blasting our presence from huge car stereos into the surrounding woods.
Reading about Kesey's vision of the forest in Acid Test reminded me of such experiences. Those were glory days for many brethren, staging grounds that strangely mirrored the logging mindset in Notion. Kesey's trees were both a literary metaphor and the real thing. And the sound of machines in the watershed made me think about how those formative shows have played out in the extended theater.
Early test subjects may not want to admit it, any more than I do, but they probably expanded markets more than minds. There's money to be made if we perceive Creation as a big audio-visual showroom made for our gratification. Day-Glo Color Corporation is the largest manufacturer of daylight fluorescent pigments in the world. In the end, there doesn't seem to be much difference between selling Bob Dylan albums to young prankster wannabes and selling cars to old prankster wannabes during the Super Bowl.
Central intelligence might have been subverted if things had happened a little differently in the 60s. Near the peak of his fame Kesey planned to tell the world it was time to graduate from acid, go beyond the same old trip. Apparently some hippie bigwigs got nervous, when they heard about his big announcement, thinking he might mess up their engineering. So they backed out of his event. If that hadn't happened, subsequent waves of pranksters might have gone further than drugs, further than shows of consumption, deeper into real fellowship with the living forest.
Many did go further, of course. In fact the most expanded minds I know never entered the drug school, or dropped out early and are more tuned in as a result.
Now all sorts of folks make a living in Oregon's coastal woods. Our forests are significant in part because they grow fast and heavy rainfall makes them less susceptible to burning. They are adept at absorbing carbon from the atmosphere, countering the harm we've inflicted on the climate in pursuit of booming profits.
My family is grateful to state foresters who oversaw the cutting near our home. They agreed not to spray herbicides from helicopters, before replanting, which might have contaminated our drinking water and enlarged an ecological wound.
An evening walk through the watershed brought to mind words spoken at a recent sweat lodge. While the doors were open between sessions our host asked if anyone had anything to share. Someone said she had been hearing sounds of chainsaws in the forest, and was thinking about all those lives that give so much by way of their sacrifice.
"I work with wood every day," said our host. "Trees are spirits. If we forget that, and just think of them as commodities, our future on this planet will be horrific."
There's a special spot near the edge of the clearcut. When the forest was whole, I'd go by there and gather wind-blown cedar under a little patch of trees. I'd take the cedar home and work with it, as I've been taught. I'd take it to sweat lodges, pass it along to friends, scatter it over the thresholds of our home and bookstore. As the logging job started I began bringing worked cedar back to the forest and spreading it around those same trees.
That the cutters left that patch standing, for some reason, means the world to me.