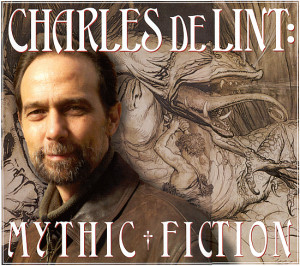 It has been almost three years since I read an article on the Upper Left Edge by Watt Childress. It was a review of Someplace to Be Flying by Charles de Lint. I had never heard of de Lint (in talking to friends I have since discovered that I was not the only one), but based on Watt's review I gave Someplace to Be Flying a try. What a good decision. I was unfamiliar with the "urban-fantasy" genre. I quickly fell in love with De Lint's work. Someplace to Be Flying was like nothing I had ever read. De Lint is a master at building fascinating characters and weaving magical stories.
I decided to try another of his books and found that he has a quite large bibliography. I also soon discovered that I wanted to read as much of his work as I could find. Since that time I have been doing just that. My favorites are the stories set in or near Newford, but I have yet to find one of his books I didn't enjoy. I prefer his novels over the collections of short stories. In the short stories the complexity of the characters and story that he reaches in his novels is not quite achieved. The stories are enjoyable, but they don't reach the true magical quality of his novels.
I, like many of his fans, also love the way de Lint incorporates music into most of his stories. I like the way de Lint works in "real world" and "de Lint world" references, especially musical and literary, from time to time in his books. I am not an expert on the works of Charles de Lint, as I only recently discovered him, but I definitely am a fan. I recommend that anyone interested in de Lint's work should read the Forward (by Terri Windling) and the Authors Notes from Waifs and Strays. They explore the author's life and give some hints as to how he came to write these wonderful works. The following is a list of the books by Charles de Lint that I have been fortunate enough to have read, a short comment on each book and a rating based on my enjoyment.
For Young Readers:
The Cats of Tanglewood Forest:    This is a fantasy written for young readers set in the hills above Newford.  It is an excellent story for young readers, but one that adults will also enjoy. The beautiful illustrations by Charles Vess help make this book a truly magical experience.  5.0
Seven Wild Sisters:     This story is set in the country near Newford where a family of seven redheaded girls get caught up in a fairy war. You don't need to be a child to enjoy this magical tale. I first read it in Tapping the Dream Tree and loved it, but the novella that has been rereleased has wonderful color illustrations by Charles Vess that enhance the enjoyment.   4.8
Young Adult Novels:
Dingo:   A romantic teen novella set in Newford.  Being a romantic and loving fantasy made this book perfect for me. Once again a novel for young adults that everyone can enjoy. This was the second book by de Lint that I read and one of the reasons I kept seeking more.    4.8
The Painted Boy :    An novel for young adults set in the southwest desert. This is an entertaining story (though not as deeply developed as his adult work, as are most of his young adult novels) that an adult can enjoy also.   4.0
Little (Grrl) Lost:    An urban fantasy for young adults set in Newford, but not to be confused with his adult Newford works. A good quick read with a story that I enjoyed.   3.8
Under My Skin: Wildlings Book 1:    An urban fantasy for young adults set in a beach town. De Lint does a better job of developing the story and characters than in some of his other Young Adult stories I have read. This is a very good read for both young and adult readers.   4.5
Over My Head: Wildlings Book 2:     The follow up to Wildlings 1 and just as good.   4.5
The Blue Girl:     A wonderful young adult novel set in Newford. This is an entertaining story is about a couple of teens and their adventure with the world of Faerie. Another good read for both young and older adults.   4.8
Newford Novels
Someplace To Be Flying:    A novel set in Newford, this is one of de Lint's best. He introduces you to numerous fascinating characters and then brings them all together in a truly magical tale. I you are a fan of the Crow Girls then this is a must read. They are at their best and very integral in this story. I have read  Someplace To Be Flying five times and haven't tired of it yet.    5.0
Promises to Keep:    This novel chronicles the early life of Jilly (probably de Lint's most beloved character). If you haven't read any of the Newford novels, this one would be a good one to start with. As a true fan of the magic that is Newford, I loved it.    5.0
The Onion Girl:    This is an incredible book. Set in Newford, the nearby area and the Spirit World, this is Jilly's story. This story addresses some tough subject matter and it may get a bit dark and depressing at times, but it is still a wonderful magical story.  If you have enjoyed other Newford novels and not read this one, it is a must read.    5.0
Widdershins:    A novel set in and around Newford that incorporates lots of music, love and a magical story featuring numerous new characters along with old favorites including Jilly & Geordie. Another of de Lint's best.    5.0
Memory & Dream:    A novel set in and near Newford, this is one can be troubling at times but a very good story. If you like the other "Newford" novels you will enjoy this one.    4.5
Forests of the Heart:    This is a novel based in Newford about a war between the Gentry (the ancient spirits from the "Old Country") and the Manitou (their counterparts from America) and how it changes the lives of numerous residences of Newford. I have a love of music, romance and an intriguing story and de Lint mixes all three together in this magical story. I didn't want to put it down.    5.0
Trader:    Two souls switch bodies and lives. This novel is set in Newford and while the storyline may not be de Lint's strongest, his characters are. For me this was a very entertaining book. I also really enjoy the way music is weaved into the story.    4.5
Spirits in the Wires:    This novel is set in Newford and combines the internet & the spirit world.  It is an exciting adventure and while the story and characters are developed wonderfully, I didn't find it as magical as most of de Lint's other Newford adventures. It is still a very good book and worth giving a chance.   4.0
Collections:
Muse and Reverie:    A collection of mostly Newford short stories. The stories are good and entertaining, but they lack the complexity of his novels and you need to already know the characters to completely appreciate them.     3.5
The Ivory and the Horn:    A collection of short stories set in Newford. I enjoyed reading the collection, but it was probably the least favorite de Lint book I have read. I would much rather read his novels than his short stories.    3.2
Tapping the Dream Tree:    This is a nice collection of "Newford" stories. If you  enjoy tales of "Newford", this is a very good collection.    4.0
Triskell Tales 2:    This is a nice collection of seven stories that were previously published as chapbooks. The problem I had with it was that I had already read six of the stories (five in Muse and Reverie and one in Tapping the Dream Tree).  This is an enjoyable collection of stories, but my previous comments about de Lint's short stories apply here also.    4.0
Waifs and Strays:    This book is a collection of stories that is centered on young adults. The stories take place in numerous locals and are the book is divided into sections accordingly. The music and magic of Charles de Lint's fantasy worlds makes this my favorite of his collections that I have read. As I mentioned earlier, the Forward written by Terri Windling and the Author's Notes for this collection are excellent.    4.2
Samuel M. Key:
Angel of Darkness:    Charles de Lint wrote a few "horror" novels under the name Samuel M. Key. The purpose was so that his readers would not pick these books up expecting his "normal" work. Gruesome and graphic horror are words I would use to describe this novel. This is a short novel set in Ottawa about sexual and physical abuse. The characters are mysteriously transported back and forth between the "real" and "other" worlds in typical de Lint style. I can't say that I found this book entertaining, due to the darkness and explicit scenes (not really my taste), but I am glad I read it. It is a strong story and if you don't mind the graphic violence and horror used by writers like Steven King or Harlan Coben then you should enjoy this book.   4.0
Novels:
Medicine Road:    A novella set in the southwest with two of the "Seven Wild Sisters" getting involved in a wager between a few of the first people. This is another entertaining magical story. Charles Vess also provides some nice illustrations.   4.5
The Little Country:    A novel set in Cornwall that mixes music and magic in an exciting story. This is de Lint mixing his love of music into the story at his best. He is also a master at developing wonderful characters and this book is no exception.  This is a very good read.   4.7
The Mystery of Grace:    A bittersweet romantic novel set a Southwest town and its Otherworld counterpart. The story and characters in this book are not developed a deeply as some of de Lint's other work, but it's a very enjoyable book. I didn't want to put this one down.  4.5
Svaha:    This novel was difficult for me to get into.  If it had been written by an author I was not familiar with I would have given up on it after fifty pages. De Lint mixes science fiction in with his normal urban fantasy and in my opinion it doesn't work. This book has a very good story, but it is told in a way that I did not really enjoy. I will not be reading this one again.   3.0
Yarrow:  This novel is about a "dream thief" and takes place in Ottawa and the "Otherworld". Once the characters are introduced and the story starts developing, I did not want to put this book down. This story has a bit more violence than I usually like, but it is an exciting story that I enjoyed a great deal.   4.5
Greenmantle:  This novel is very different than most of de Lint's work.  It mostly takes place in a wooded community outside of Ottawa. The main story is a gangster thriller that is affected by the "Mystery" that is very active in the area. This book has a bit more sex and violence than I usually prefer, but I did not want to stop reading once I started. De Lint makes you like the "good" characters a great deal and dislike the "evil" ones just as much. Mally, the "wild girl" is a fun character and a predecessor to the Crow Girls of Newford fame. This is an enjoyable thriller with a bit of magic mixed in.   4.5
Moonheart:  This novel takes place between a huge magical house in Ottawa and the spirit world. This is an early de Lint novel, but both the characters and story are well developed. This is an exciting battle between good and evil.    4.5
Spirit Walk:  This novel is a follow up to Moonheart and takes place between the same huge magical house in Ottawa and the spirit world. A number of the characters are from Moonheart, but it is not necessary to have read Moonheart first. This is another exciting battle between good and evil .    4.0
Eyes Like Leaves:  This book is drastically different from de Lint's later work. It is a novel set in the "Green Isles" and is a classic fantasy good versus evil story. The story and characters are not as polished in de Lint's later work, but are none the less well worth experiencing.    4.0
 Into the Green:  This is a short novel which like Eyes Like Leaves is set in the "Green Isles" and is written in a more classic fantasy style than de Lint's later work. The story is about a young woman, who is a tinker, harper and witch and her quest to preserve magic in the world with a number of unlikely allies. The first third of the book seems a little disjointed (the Author's Note says that "The early portion of this novel appeared in much altered form, as short stories …" and that may be the reason).  While once again not as polished in de Lint's later work, I enjoyed this book.    4.2