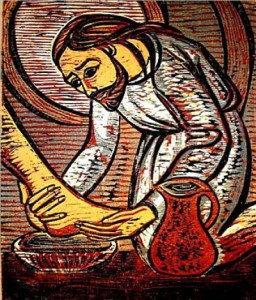 Barefoot,
transient,
swaddled in rags,
born in a manger.
Friend to the marginalized,
the lepers,
the homeless.
The sick,
the sad,
and the forgotten.
Radical Revolutionary.
Peaceful leader.
Turn the other cheek,
Give the coat off your back.
Wash the dirty feet of neighbor,
stranger,
and friend.
Deliverer of hope.
Lover of souls.
Healer.
Without posessions,
money,
or worldly power.
We are taught in our CHRISTian nation to follow the masses; to buy, to sell, and to own. The rich are beyond reproach, and the poor regarded as reproachable. Yet Christ said, "It is easier for a camel to go through the eye of a needle than for a rich man to get into heaven." (Matthew 19:24)
We are taught to earn as much as we can and keep what we have; that only a foolish person gives away what they've worked for. Yet Christ said, "If you wish to be complete, go and sell your possessions and give to the poor." (Matthew 19:21)
We are taught to fear what we don't understand, and to judge what scares us. Yet Christ, in compassion, turned his eyes from no one.
We are taught to hate, to fight, and to own. Yet Christ said "Beloved, let us love one another, for love is from God; and everyone who loves is born of God and loves God." (1 John 4:7) "Peace I leave with you; my peace I give to you. I do not give to you as the world gives. Do not let your hearts be troubled and do not be afraid." (John 14:27)