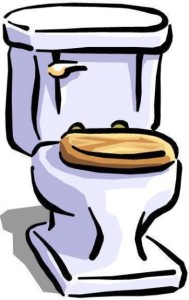 Most Sundays (though this week it was Saturday), I talk with a German friend of mine, Volker, using the wonderful Skype software. Because we talk via our devices and not the phone, the "calls" are free (except for the Internet charges we pay in any case). We generally start off the conversation with a check-in on our activities of the previous week, and today, Volker said it was a milestone week for his project at Commerzbank, where his company Abstracture is helping the bank to update the interfaces for some of its software. Volker has been working on this project for a few years, and it's far from done, but this week, he said, there were more fixes than new bugs. Eureka!
The reason it's taken so long is that unlike some other projects, the computer systems at the bank have to continue working exactly like they did before, while they're being updated. When Volker told me this, I started thinking about other things that have this property, and the list is actually pretty long, at least that I can conjure.
The first thing that came to mind was my general situation on my former job as environmental engineer at the Washington Department of Ecology. There I basically worked with industry and government to try to get them to clean up their environmental act, especially if they were using toxic chemicals in their operations (who doesn't?). Problem was, most small companies couldn't really work on changing their processes while they were operating, and they couldn't afford to stop operating, even for a day, or they would be swamped by the competition (yes, these were small margin companies). So, like Volker's computer project, I would help them to change little things that kept the basic processes intact, but saved them some money or some hassle from regulations. It was pretty frustrating, since my reason for taking the job was to be able to use my chemical engineering knowledge to help change processes and save the world!
But there's much more.
What about politics? Everyone complains that the political system is broken. We can't get good candidates, the rules favor billionaires, the major parties dominate the process, there's too much money, etc. The obvious answer is to change the system overnight to correct all these problems. Get rid of money by public financing, get rid of state-run primaries for the major parties, use a different voting system, get rid of the Electoral College for president, move Election Day and make it many days, etc. Some of these things have already been tried, and some have worked. But the system stays about the same, because we need to use it while we're changing it, and it needs to be familiar enough to enough people that it won't scare them off. Pretty much the same problem as my Ecology job, and Volker's project. We need a new system, but can't replace the one we have, because it's too ingrained in everything.
How about architecture? Hey, we were talking about energy efficient homes in the 70s, and that's almost 50 years ago! We know how to do this, and technology has only gotten better. But still, we see the same old houses being built in the same way, using similar materials, facing the same ways, on the same grid, and if anything, even more energy inefficient (mainly because they're bigger). Problem is, yes, you guessed it, it would take a lot of money and upset a lot of people's lives to change the street grid, destroy and rebuild houses, and get all this through the councils. Builders are also good at the way we've always done houses, and would have to be trained to do it differently. So we get the same houses, buildings and setups we've always had, with small changes as time goes by.
Infrastructure, plumbing, electrical systems, and on and on. And energy systems. Look at the current debate about climate change and fossil fuels. Even though most of us seem to know we have to keep the coal, oil and gas in the ground, we continue to dig it out, and do things the way we've been doing it for decades. Because in order to change the energy system to renewables, we need time, and in the meantime, we have to have energy. Same old thing as above.
So can we break out of this mold and progress at a greater rate? I'm thinking not really, for two reasons. One is what Volker calls the law of cultural inertia. Like physical inertia, culture tends to stay at rest when at rest, and keeps moving in the same direction when it moves. This is mostly because people resist sudden change, and big changes therefore have to wait until the older folks die off. The other reason is shown above for some situations. We need to keep systems in place while we make changes, and this means that practically, we can't really make big changes all at once, except for disasters or other special situations where the current system is wiped out unintentionally.
So we're probably stuck with most of the world the way it is, at least in a broad sense. That's not so bad, but as I grow older, I want more and more to see big changes occur before I die. So many that we need…
I'll leave you, oh tired readers, with this (and I've written about this before): give me the design for a toilet that looks and acts just like a toilet, but doesn't use an appreciable amount of water, and uses the waste for fertilization nearby. The key to progress is to fool the people into thinking nothing's changed!