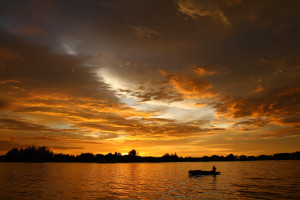 Agus Sukmono was not pleased with the morning's catch. He had cast his net a dozen times from the canoe, but his two young sons were unmoved when they heaved in only a few meager fish and squid. They drifted near the atoll off the Bay of Padang, when Agus spotted a dark shape on the atoll's beach: a canoe. No one lived on this clump of lush green palms and underbrush ringed by snow-white sand. Buried in the brush rotted a broken shack, said to have been used before his time by a deranged nomad from some place beyond Malaysia. Agus had stopped on the atoll before to take a break from fishing, once to wait out a whipping rainsquall. As they neared, his sons were troubled yet also roused by what they might find here.
True to their fears, a figure came charging around the bend, arms stretched out like some albatross clumsily taking to the air. He had no clothes on, but for a maroon headscarf with a black pelican feather sticking out of it. His bearded face spouted laughter. Without breaking stride, this white man sailed straight into the surf, splashing and yelping, then floating on his back as if dead.
Our trio dared not move. A Robinson Crusoe gone berserk? An invader from Europe maybe. What brought him to this barren Pacific beach? Agus or any man from his village on Sumatra barely visited here once every few years, just to scatter boredom. No one was seen on this atoll since the lunatic had vanished as puzzling as he had arrived. He was gone years before villagers from across the bay established that the ramshackle hut and the atoll were abandoned again. After a while, stories rose from the white smoke of fires they squatted around. Or sparked by smoke they puffed from thick leaves. Cannibals visiting the isle had feasted on him for a chief's funeral. Bones had been found among blackened logs. A village outsider reported he had seen a shark with dead eyes rip his seven rows of saw-teeth into a man's ribcage by the atoll's beach.
Agus' boys stared at the unfolding mystery, their canoe drifting onto the sand. The naked man could hardly pose a threat: there he bowed before a palm, bellowing "Salamat sorey, gadis manis!" Why did he woo a palm as a "sweet lady"?? Agus and sons broke out laughing, but stopped, for they had startled the stranger. The men from two worlds traded greetings and gestures, laughter over the other's oddities or over the joy of the chance meeting, while Agus' sons squatted and stared.
Agus snooped around the stranger's canoe, finding clothes, a brown bottle of Java Rum, an open wooden box with color-tainted tubes and a large paper with colors-spots. The white man noticed, fished the paper from the boat and, standing side by side, pointed toward Padang Bay and to the sheet. Agus' face brightened, his grin showed missing teeth. Yes, he saw the magic. He saw the bluewhites and deep greens and brownyellow on the page mirror Padang's sweeping bay framed by sloping jungle hills. With rising fuss and nodding head the foreigner pointed to a small picture of a ship on his paper, then to his chest, then to Padang in the distance. Yes, yes, laughter, nodding heads. Ahh! Yes, yes, understand! The white man came from a ship in Padang, yes. And he had painted a picture of the bay. And all this time he was standing naked, yes, yes, hahaha. So, this man may be crazy, but at least we know where he came from. Not like the nomad from the hut, who was one day just discovered living there. He was not Indonesian. He came from beyond the sea. Not from white people.
After visiting a while, Agus pushed off. They watched the stranger squat on his haunches like them, dipping a small brush into the seawater and dabbing color onto his paper. While his sons paddled, Agus thought of the stories he would tell in the village, about a naked man who fluttered like birds, talked to palms like women, brushed images on paper. Seasons later, his sons would tell of a birdman mating with palm trees, brushing images on paper. Agus thought it would be dark soon, the tide would be going out. The tide flows strong here, and that man might have trouble leaving the atoll.
Agus could not know that at this moment his own image showed up on the man's picture tablet, sons and canoe and all, and blue sky turning orange. Many years from now, across the Pacific at Haystack Rock, campfire stories would be told of the fisherman Agus Sukmono.
* Based on a true story, this piece was written in one night during the PSU Haystack Writer's workshop in July of 1993.