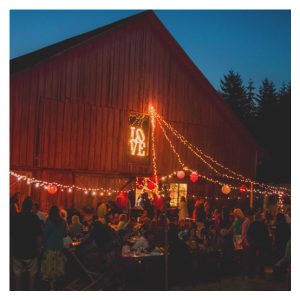 Dust. My face, skin and hair were full of it. There I was, one week from Autumn Equinox and I was grinding old paint off window sills with an orbital sander. My skin was itchy and flecked with the 80 years of paint being peeled back off this old farm house kitchen window. I glanced up from the tight grained wood I was slowly uncovering as I heard rain starting outside. The apple tree in the kitchen yard was so loaded with green fruit it was actually tipped over onto the earth. Beyond it's branches I could see the North Fork of the Nehalem river, swollen from the return of the fall rain, and imagine that soon Chinook and Coho salmon would make their way up this stretch. Across the river my farm crew was harvesting our 2-acre vegetable field for our fall CSA – beets, potatoes, hot peppers, squash, lettuce, carrots and more. They were picking, washing and loading all these veggies into waxed cardboard boxes bearing each members name to be delivered the next morning up and down the north coast. All this food and magic was happening outside in sync with the turning of the season, and yet there I was, barely visible behind my safety glasses, dust respirator and ear protectors pondering a different kind harvest our farm was about to have.
This all began with a vision that started years ago. I have been farming organic vegetables for over 7 years on the north coast of Oregon, near the small villages of Nehalem and Manzanita. I have been growing food for farmers markets, chefs, grocers, and for our 65 member CSA. What started as a large personal garden has become a life's passion. It began a love for amazing tasting veggies and fruits, learning about soil and plant health, teaching young farmers the trade and challenging myself to learn more and produce more each season. Over the last few years, however, I started to see that people were hungry for more than just the tomatoes and salad mix we grow.
The craving for local food is a part of a deeper need for community, for slowing down and tuning into natural cycles, for authentic experiences like canning peaches and turning compost, the rewards of simple hard work outside in the dirt instead of sitting for hours in the glow of a computer screen. The Millennials who were volunteering on our farm were far more interested in learning the mysteries of kim chi and hunting wild mushrooms then they were with the latest software. The Airbnb stay we were experimenting with on the farm was booked months in advance with people who didn't want cell phone reception and wifi, but rather the sounds of the creek passing by and the taste of farm fresh eggs in the morning. As the seed of this awareness grew, I began visioning a part of our farm that could be more inclusive than a CSA. A place where people could come to eat, learn and stay — all on a working small farm. The money generated would go to fund not only our farm's growth but also to help launch the young farmers we were teaching onto their own farms and grow the coastal food economy.
So this spring my husband Brigham and I bought the historic homestead across the road from our farm. It is a lovely 4 acres along the North Fork of the Nehalem river with a 6,000 square foot red dairy barn and a 5 bedroom farm house with a large kitchen. It is as perfect a place to demonstrate our vision of what community based farming could look like in the 21st century. We called it North Fork 53, after the river and rural highway that run on either side of it. This fall, after months of DIY madness — the dream becomes a reality.
Farms used to be centers of community and family. Neighbors would gather in houses, barns and fields to celebrate holiday and hold harvest dances, memorials and weddings. Human life revolved around the growing seasons for every generation in America up until the mid 20th century. North Fork 53 is the new century version of the community farm. Not based in one family, but instead in the "farm-ily" of everyone who comes to learn about baking bread or making an herbal salve; who stays overnight and gathers fresh eggs in the morning or the couple who decides to get married in our barn. It is also the farm-ily of growers, fisher folk, ranchers, chefs, foragers and herbalists who will teach, cook, pack, distribute, can or sell their local food in our full diet farm store and the new farmers who will learn the skills to strike out on their own. With this harvest of amazing possibilities in mind, this farmer could stand a little remodeling dust in her hair. To learn more about how to eat, learn and stay on our farm please visit www.northfork53.com To learn more about our CSA please visit www.revolutiongardens.com.