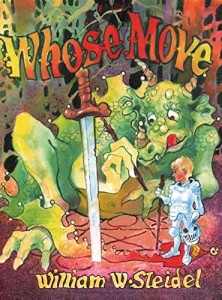 Shoes scraped, scruffed, and made the polished wooden floors of Steidel's Art Gallery gently groan today as fans packed the small studio for the first peek of William Steidel's new illustrated book, 'Whose Move.'
For a young man sitting to the side, it was as if dancers, fairies, and beach walkers together tread the boards of imagination. For emblazoned on the walls above them were dragons, tic-tac-toe matches, and young shiny knights — the world of 'Whose Move'.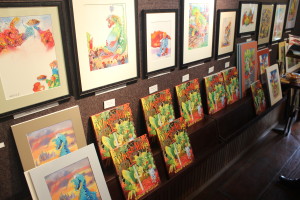 People moved in and out, warmly greeted by Sally Steidel, who thanked them for coming and supporting them 'all these years.' Dressed mostly in browns and blues, with an occasional purple or aqua green, they passed before paintings like shadows before stained glass windows. Purchasing books from Sam Steidel, they moved into the line for signatures by William, or Bill, as the town's unofficial dauphin of imagination is mostly called.
To the young man on the side, the space felt more like church than studio.  The paintings — golden, white, and blazing — seemed like transparent panes letting in a holy reality beyond. A reality that in Steidel's print 'Barnstorm' brought tears to the young man's eyes. In it, golden trees, fields, and barn held the foreground, defying black brooding clouds behind. In this meadow, dark and light had just collided and fought fiercely, and light — honeyed and glowing — had emerged the victor.
Golden light over natural worlds. Birds, owls, and mice. These are the palette of many of Steidel's creations. But this day, the wall is covered with dragons and a boy knight and a medieval village. 'Whose Move' concerns the story of a boy and dragon who solve their differences (and a village's fate) with a game during Festival Day.
Songs drift from above, causing the young man to look up. Musicians, including Paul and Margo Deuber, have slipped in for an impromptu concert in the balcony. As their guitar strings plunk, Bill stops signing books to answer with his own guitar strums.  For a moment, dueling strings seem imminent. But that fades like a passing storm
over Haystack Rock and Paul's folksy vocals, singing a tune that could be the theme of a new Davy Crockett show, mist down like a waterfall.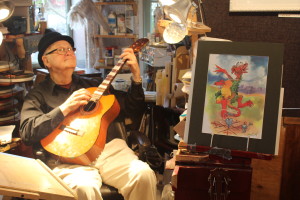 The young man has mostly composed himself now. The glimpse of a golden beyond, the knighting of young virtue, and the hope ringing out from walled images has had its curative effect on him. He feels knighted now. And, though a heavy wind has just knocked down a wooden display outside the door and rain rips sideways down sidewalks, he feels renewed. As he leaves the warm interior, with laughter, music, and relationships cemented in the history of a small village by the sea, he feels all the richer for having come.
Such is a trip to Steidel's, selling the first copies of 'Whose Move' till 5pm today, Saturday the 10th, and all week long. And beyond.