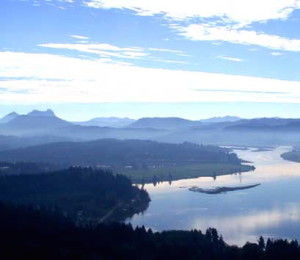 Paradise describes the breath taking view overlooking rolling green hills in all directions until your focus gently settles on the awesome expansion of the great Pacific Ocean. The smell of trees, flowers and fresh air frees your heart from all earthly bindings.
There your heart is open and free. You come face to face with the real you. You are the person that is beyond illness, beyond sadness, beyond everyday living. Here you know you are in the right place at the right time, you are the joyful you. What kind of place can be so pure as to help you see and feel your own reality through and though?
In spring and summer, the shimmering plants that thrived here for centuries smile directly into your face as they welcome you to their home. These very happy plants faithfully heal the human body without any hesitation. In the fall and winter, winds blow so strong that only the driven person cares to venture. Sideways rain, freezing snow, and lightning light up the heavens leaving one to only imagine the power behind the force of nature, as it is free to dance with wild passion.
This can only be the home of the super-natural beings so inhumanly versatile as to express with such power. This is where the medicine men throw lightening. Its name is Swalalahoost. From a distance, far from it's true qualities, it's referred to as Saddle Mountain.
Swalalahoost shares its gifts with all, welcomes all, and continues to bless our lives as it has for centuries. Its name describes all of its super-natural qualities. There are many locations throughout the North Coast that have sacred names which describe their gifts that we are so blessed to receive when we are open. The Clatsop-Nehalem people, the first people here, continue to hold a powerful connection to the land, and continue to refer to places by their sacred names, reveling in their power. These are the same places that people travel long distances to be a part of, if only for a weekend.