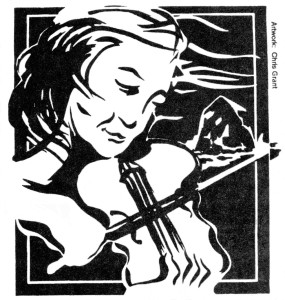 It is a bit unusual to include an article about the beginnings of the Stormy Weather Arts Festival in an issue about the harvest, but perhaps it is appropriate. Like anything else, this event was seeded, and grew organically over time. The seeds held the potential of what the event would become.
Here is what I recall. Some of us were talking casually and I said, "This is an arts town, isn't it?" The reply was yes. Then I asked, "Why don't you have an arts festival then?" Someone, I think it was Chamber Director Nancy Littell, was quick on the uptake and said, "Do you want to start one?" I replied that perhaps we could do just that. The year was 1988.
We asked around as to when would be a good time to schedule a new event and began investigating what it would take to make it happen. The idea came to have it just after 'the season,' perhaps the first weekend of November. There was concern about whether visitors would actually show up if it was stormy. Then I mentioned, 'We could call it Stormy Weather Festival and have someone sing the song to open it.' That went over well.
The early members of the committee included Nancy Littell, Barbara Gray, Marsha LaFarge, Stephen Diehl, Sharon Clyde, Mark Goetz, and myself that I recall. We agreed to design it to include a variety of arts disciplines all at once – like the Bumbershoot Arts Festival on Labor Day weekend in Seattle at the time. Stephen, who managed the Coaster Theater, was enthusiastic and would make sure we had an outstanding event for Saturday night.
We set up the festival to include live music, a focus on art and a gallery walk, a theater show, literary readings, a reception, a dance, a school program, and a Sunday concert. Sponsors were recruited and indoor venues were arranged. We made sure the musicians got paid for the time they played during the day as a solo or as a group. Artist Chris Grant did the original poster of the violinist and Haystack Rock, and created graphics for other arts later.
The first festival opened on a Friday with the Black Tie & Jeans Reception in the Cannon Beach Visitor Center Community Hall. I had asked well-known Portland jazz singer Nancy King to open it by singing the standard 'Stormy Weather.' She replied, "But it's such a sad song!" – and agreed to sing it anyway. So that's how it began.
In the early years, we added the Quick-Draw by local artists, the Late Nite Beach Coffeehouse which was an open mike, and a concert by the Cannon Beach Chorus directed by Danny Lawson. One year we had an African drummer from Ghana and his wife who was a fantastic dancer. That was a hoot. They also did a dance presentation in animal masks for the Cannon Beach Elementary School students. Later we added puppetry, a drum circle, and other arts-related activities to fill out the weekend.
The Stormy Weather Arts Festival has been held on the first weekend of November in Cannon Beach for 28 years, as of 2015. It continues to celebrate art and music, and more. The harvest has been different each year.