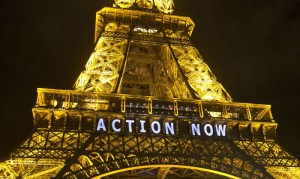 Last Saturday, the mainstream media reported with glee and fanfare that the world had signed a climate change pact that would save itself from certain destruction. I'm sure most people thought "whew, that's good, now I can get back to the game, or dinner, or mowing the lawn, and I don't have to worry the world is going to end soon." This was especially good news after all the shootings here in the U.S., and all the war elsewhere. All that downer news can get to you, you know.
Never mind that the climate change pact wasn't very specific about what we all need to do to avert catastrophe. And never mind that essentially nothing changed last Sunday. Governments will take care of it, and we can go right on buying gas(oline) for our cars, (natural) gas for heating our house, and electricity from fossil fuels to power our computers (including the one I'm using right now). Let's face it – we're addicted to fossil fuels. Both in their use to provide power and in their discovery, development and sale for profit. The U.S., and most other countries in the world, while signing the climate change pact, don't have any plans to keep fossil fuels in the ground, or significantly lower their mining or use. On the contrary, most countries are actively seeking to increase fossil fuel mining and use, with a race in the Arctic, Africa, off the coast of Brazil, the South China Sea, and even in the U.S., to develop these resources as fast as possible.
Two more examples of addiction will suffice for now. (Feel free to add to this list, or argue with my conclusions, oh readers. It's part of Judaism to learn from argument, and all good rabbis are always learning.)
We're addicted to another fuel – sugar. Despite a gazillion research papers, studies, and books telling us that sugar (that's D-sucrose for you chemists out there) is bad for us (like fossil fuel is bad for us), we continue to produce and package it in different forms, and sell it in ever increasing amounts to a public eager to consume more. One of my favorite observations about our food is that we are now compelled by marketers to buy food that contains "real sugar" in huge amounts, instead of that "high-fructose corn syrup crap" or any of the artificial sweeteners like the saccharin my father used to carry around in a small pill bottle and use in his coffee or other drinks back in the day (oh, like the 60s and 70s). In fact, part of the hipster thing that I just don't get is eating and drinking things that are bad for you that were popular back in the day, because that's what hipsters do.
I wouldn't be surprised if the world soon signed a sugar pact, pledging to wean ourselves off of sugar, and only use sustainable food, or whatever the scientists and environmentalists thought was good for us, but continued to produce tasty food sweetened with good old sugar.
And finally (for now), (thankfully), we're addicted to cheap stuff. (I bet you thought I would be talking about guns and violence, but I'll leave that to another post.) From my many progressive and liberal friends, I hear a constant cry to rid the world of Walmart and similar retailers, that tempt us with cheap stuff and rake in enormous profits while abusing their workers. The latest company to earn our wrath is Amazon, which is almost single-handedly fueling Seattle's enormous growth at the moment. They now sell us everything that Walmart does, except we don't even have to get in our cars and get it – it comes to us via mail, UPS or FedEx (and they're talking about drone delivery – an obvious ploy to appeal to our sentimental feelings towards carrier pigeons)! They evidently abuse their workers, and CEO Jeff Bezos is being quoted for things akin to the Donald.
But Walmart, Amazon and the others are doing great! Business has never been better! Here in Clatsop County, Walmart is going through the permit process to locate in Warrenton, with lots of support from our mostly poor residents, and Costco is booming. Freddies is doing just fine too. My favorite discount store, Deals Only in Astoria, is still here also.
So, while everyone knows that Walmart is evil, and we should buy local, or better yet, join the Lower Columbia Time Bank or use Freecycle or Goonieville Buy and Sell, we will go on making profits for Waltons, the Bezoses, and the others, while buying cheap stuff.
Because we're addicted.