I'm weaving together the holy, The Sound of Music, and Adam Sandler in this rambling post. All to attempt the near-impossible: illustrating a very personal take on how I perceive the God of the universe showing up in the most unlikely places to pour out his love for me. In print, that seems a mighty claim, doesn't it? That the almighty creator God could care for me? For any of us? Enough to show up? Enough to sing his love? Maybe. But it's always been a tenet of my family faith and a life of spiritual seeking has proved it more than not.
Case in point: it's Ash Wednesday evening and I'm grumpy. Instead of heading to church to center on the upcoming season of Lent–to gather with believers or recharge my tenuous connection to the divine–I'm driving over the coastal range to downtown Portland to see Adam Sandler and Friends at the Arlene Schnitzer Hall. Raucous laughs and raunchy lines are sure to ensue but somehow, I think, I'd rather spike my forehead with ash, contemplate the dark days of pre-Easter emptiness, and draw near to God through incense rather than pot.
But work-related tasks have connected me with Rob Schneider, who has personally invited my wife and me. So, I don't want to let him down. Even if it means getting stiffed at the box office. Celebrities aren't the easiest to pin down, so I'm only mildly disappointed when we arrive at the box office to no tickets (the event is sold out and there are none on 'will call'). I figure a nice dinner will have to appease. Then my phone rings. 'Rick!' Rob yells. 'Can you meet me in the hotel lobby? Like, now?'
The man at the front desk looks askew when I explain I'm waiting for Rob Schneider, but luckily the elevator opens and Rob rescues me from further scrutiny. He whisks us and several other guests (a group of twenty-somethings) into the theater and down to the dressing rooms where we came face to face with the other stars of the evening: Adam Sandler, Norm MacDonald, David Spade, and Tim Meadows.
As they warm up several feet away (tuning guitars, voices, and jokes), we stand to the side feeling odd. There's no room in the inn, the staff seems to be telling Rob. No seats to put us in. But somehow, magic whispers from the Gentleman Rob turn their 'nos' into 'yesses' and we're escorted to center seats.
The show is–as you might expect–raucous and hilarious. One after another, the comics hit the stage and kill! We haven't laughed that hard or that sustained for years. But it's Norm MacDonald who gets me thinking about church. And Jesus. One, because he's just so painfully honest. He makes me wonder what church would be like if we were the same. And, two, because he talks about the man. About Jesus. Openly.
In the middle of a side-splitting monologue on the aged Six Million Dollar Man accepting a job offer for a hearing-aid commercial, this seemingly sauced prophet tightropes the line of soul-baring honesty, life's unanswerables, and deadpan wit. Which, since most of his routine is about death, seems fitting. Then he talks about the guy from Nazareth. And the only way to be saved. And the audience hangs on their own pause for, well, like an eternity. Is this when the mockery hits, you can hear them breathing? Can the guy up front really be serious? And he is. Deathly. He delivers life-confessional truth, throws autographed Trailblazers gear through marijuana haze, and walks off dedicating it all to the 'pale man of Nazareth.' Now Norm's really got me thinking: what if church were more like a comedy club?
Live comedy energizes me if it's powered by two things: love and truth. I don't mind the vulgarity of Chris Rock when he's spot-on truthful and hilarious. And the best kind of comedy (again for me) springs from love and solidarity. Not the kind which skewers or destructs, but which brazenly celebrates common limitations and doubts. Maybe we elect comics to be our 'secret selves exposed.' To act out the reality show of our inner lives and saucily proclaim what we secretly whisper–our naughty thoughts and ways, fears and loss. And the more honest and 'like us' they are, the more we laugh and applaud. With the comedy Adam Sandler and friends shared on Ash Wednesday, I felt united with, not separated from, my neighbor. Exposing my foibles, fears, and insecurities for what they are–ridiculous truths–they brought them into the light and in so doing brought us together. 'See,' their comedy said, 'It's not so bad. We're all in it together.'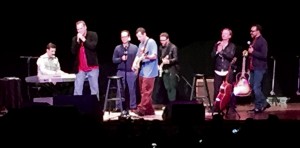 Together. That's a word the church could be saying a whole lot more of these days. Some preach it. Fewer embody it. Or love and truth, laughter and acceptance, comraderie and joy. On Ash Wednesday, God lovingly reminded me through Adam Sandler and Friends of the church I want to be a part of.
You might think this the end of the story, but it isn't. Remember those young twenty-somethings backstage with us who were also guests of Rob? Well, after the show (filled with song after silly/sexy Sandler song), I end up talking to one–a sweet gal–as we snake single-file behind Spade through the hallways to the after party. Fanning into the florescent tiled upper room, with meat slices fading under shiny plastic wrap, Rob introduces us to Adam and his friends. Sandler quizzes the twenty-somethings, who turn out to be the grandkids of the Von Trapp family singers–the ones featured in The Sound of Music! The sweet gal I was talking to is the real-life granddaughter of Kurt. And they sing!! Together. On stages all over the world.
So, when Sandler hears this, he tells them how much his kids love The Sound of Music and begs them to sing something from it. They're hesitant, but Schneider joins in and, well, how can they refuse? So they softly begin an acapella version of Edelweiss and within fifteen words, the entire room is quiet. I'm standing next to an enraptured Sandler, who's softly crooning along, and I'm crying (slightly) because it's suddenly way more like church than I ever imagined the night could be. A holy song creating a holy moment in front of entertaining elites and I feel God among us and loving us. Like I felt him loving us with Norm teetering onstage talking about Jesus. And mirrored in Sandler helping a drunk lady in the front row back to her seat. And especially in the tribute song to Chris Farley that brought down the house. And when they all gathered–friends since high school–on stage for the finale, welcoming us into their circle of creativity and brotherhood.
I'm so thankful God can be found in church. And elsewhere. Even in a comedy concert filled with sex jokes, and in the green room when a sixty year old song, representing a family forced to become religious refugees, can still seize the day, quiet the crowd, and bring on the holy. I'm so glad God weaves the tiny details of my life into tapestries that vividly declare his love…especially in downtown Portland on Ash Wednesday with Adam Sandler and Friends.