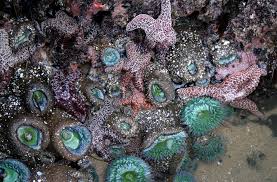 A natural zone between land and sea
where life holds to rock while waves work to wash life clean,
living in this ecotone requires adaptation
if earth's to be inherited by the meek.
A willingness to go with the flow, so to speak.
Urchins, anemone, starfish, and mussels
at low ebb wait, exposed. Scarlet tendrils,
mouths chartreuse, clustered in colonies
bound together. In a tidal pool, a nudibranch
and hermit crab avoid each other.
Oyster catchers, turnstones, and gulls
lift on invisible strings. On closer look
chitin shells and limpets come to sharp relief.
In this small world, the struggle of love
is worth the hardship. Cling to that belief
like life depends on it, because, here, it does.