Meeting folks in Santiago transforms me into an improbably untalented actor rehearsing lines. The script is easy and yet each cue brings with it a wave of existential panic: What IS my name? What AM I doing here? Today, I realize that I've been incorrectly answering the question how long have you been here for the past three weeks.
No, I haven't been here dos semanas anymore: I'm well into week five. My failure to update my answer reflects more than a deer-in-the-headlights Spanish response at this point. Even after spending a month on the ground, I feel that I'm still waiting for things to begin.
This feeling of delayed immersion is in part due to the IFSA program layout. After orientation we jumped headlong into a course selection process, made difficult because we can take classes at any of three different universities. Even registering for my chosen classes was a multiple-day multiple-campus multiple-misunderstood-directions process. I still haven't attempted to print out my readings.
Santiago has been smoggy and hot. I've tentatively begun to get a feel for the layout of the city, and getting lost in this urban jungle has proved more fruitful than stressful. One wall of my room sprouts an a array of post-its highlighting new Spanish vocab. When I'm ambitious, I add to it. When I'm not, I slather butter on white bread and eat it in my room in a state of monolingual self-pity.
Don't let me paint myself the victim, here: so far I've self-jeopardized my immersion in a variety of delightful ways, using English to stay in touch with folks back home and develop new relationships here. 
Last week we had two days off during semana santa, the week leading up to Easter. Positioned oddly as it was at the very beginning of classes, I nonetheless took advantage of the sole break of the semester to splurge on an extended trip down south to Chilean Patagonia. A group of us spent four nights backpacking through Torres del Paine National Park, which may be as close to Antarctica as I'll ever venture.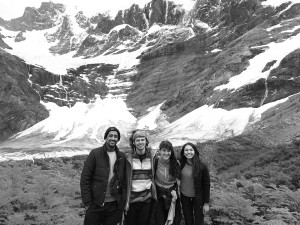 Situated between the "Roaring Forties" and the "Furious Fifties" latitudes, Patagonia's windy and erratic weather makes Oregonian fluctuations look almost tame. Many visitors to the park stay in pricey refugios along the most popular trail, 40+ mile route known as the W. We slept fitfully in our rented tent, gleefully spurned chances to shower, and only grieved a little when mice emptied our cheap boxed wine the first night (poor drunken fools!)
If we weren't college students on a budget, would we still choose the defiantly rugged path? Walking churns out thoughts, and we kept coming back to questions of subjectivity. Do we prefer experiences simply because we are taught to appreciate them within our family and class circles? Looking through the windows of refugios, we awkwardly made eye contact with hikers eating $30 meals, cloth napkins in laps. They looked back through the glass at us heathens, perhaps also contemplating objective contentment.
Surely there's objectivity in the park's beauty, we decided—although even here, we wondered how those living in the midst of such beauty would understand it differently. My friend Ben taught us how to spit like champions after brushing our teeth at night, broadcasting a mist of toothpaste to minimize our trace. As I vaporized my toothpaste I thought about the impact conservationism has had on indigenous peoples across the world. In the effort to protect beautiful places, many have been marginalized because their existence muddies the concept of "pure" nature.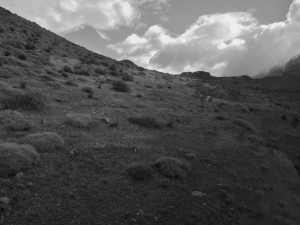 Torres del Paine certainly feels pure, especially after a month in Smog-iago (Santi-smogo?) The park is hoarding more than its fair share of the world's supply of the color blue, and the sky is like my favorite kind of music: somehow both angsty and jubilant. The terrain is astonishingly varied, as if the american southwest, Alaska, and the mediterranean all decided to room together for a wild semester.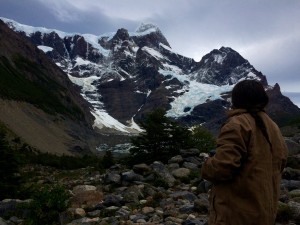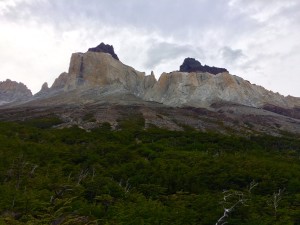 Speaking to locals in Santiago about the trip I'm met with a kind of nostalgia for a place they've never been. Chileans feel ownership and pride towards Patagonia while recognizing that it's a destination largely frequented by non-Chilean tourists. I have to make it down there, they all say, and I agree and feel not a little sheepish about my privileged pilgrimaging. On the W we met a lot of extranjeros, both nice and annoying foreigners trading Lonely Planet tips and trail mix. Strangers greet each other on the trail with awkward holas, saying hi in a language that likely neither party speaks. It becomes a game: did we just pass a foreigner or a  R e a l   C h i l e a n?- and I find the exchanges both offputting and comforting, tiny homages to the country spoken unabashed gringo accentuation.