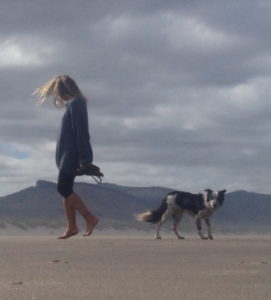 "We tell ourselves stories in order to live." -Joan Didion
Food. Shelter. Medicine. These are basic human needs. Some would go so far as to say that these are basic human rights. Currently these needs, or rights, have been transmogrified into a three-headed monster with a relentless and insatiable hunger for money. There is no end to its appetite and there is never enough money.
We can choose to trade all of our time in an effort to feed this monster. We can believe that if we just work harder, get a third job, or stop drinking lattes the monster will finally be satisfied and bestow upon us our hard earned rewards. We can pretend that this is normal, necessary, even noble. We can live by the hour and die by the hour.
I chose this sort of life for a long time. In an effort to provide for my daughter and myself I worked as much as possible. Two or three jobs. All day, every day. So lucky! Some people had no jobs but I had three! Then an elaborate series of events led to us living at the wondrous and departed Log Cabin on Laneda Ave. A lot has been said about that cabin. Eyesore, den of debauchery, haven for ne're-do-wells and hobos, incubator for joy and greatness, my favorite home ever. Missed by many, reviled by some, and deserving of a proper tribute someday.
But also the first place I could afford to live! Without working three jobs! What a revelation! What a joy to have free time to explore the beauty around me! What a joy to have free time at all!
Homes like these don't really exist in Manzanita these days, and affordable housing in general is scarce everywhere. People are still going to work every day but many don't have a place to live. I'm among their number, mostly by choice. Sleep in a different place nearly every night. On floors, at jobs. In a car, knees curled to chest. Dog on chest. In a tent. On a tarp, covered in blankets and moonlight and love. In sheds. In other people's houses. On kindly offered couches. In kindly offered backyards. Parking lots and meadows and secret camping places that no longer exist.
Some tips for living like this: Always know where your toothbrush is, always do the dishes, be grateful for every kindness, don't stay anywhere too long, try not to be too visible. Try not to be offended by $1,300.00 a night vacation rentals, try not to be offended by people who get mad at people who sleep in cars, and even if they call the cops remember that you are not a criminal. Embrace your feral nature, redefine your idea of home, learn that by inhabiting the story of your life you create a home everywhere you go. Know that you are lucky, so lucky.
And some tips for all of us: Recognize that some people in our community are struggling and lack access to basic human needs. Know that an amazing and kind member of our community died last winter because of this. Work to fix this so it doesn't keep happening. We can choose community over commerce. Instead of calling the cops when we think someone might be sleeping in their car why not see if they are okay? Check in with people. Make that unused space above your garage into an affordable, long term rental. Understand that affordable housing isn't affordable to people making under $1,500.00 a month if it costs $800.00 a month, plus utilities, plus first and last and deposit, plus pet fee, if pets are even allowed. Allow pets.
Remember that poverty isn't a crime, but denying people access to basic human needs should be. Also remember that monsters are of our own making and that we can dismantle them when we decide that there are things more important than money.
According to the brilliant Native American poet, Joy Harjo, the west "is the direction of ending. It is the doorway to the ancestors, the direction of tests. It represents leaving and being left and learning to find the road in the darkness."
Maybe here, in our own upper left edge, we can be lights in that darkness.