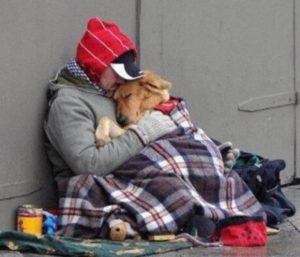 I knew him.
He had an old dog
named Susie.
Her hips were weak
so she wove down the sidewalk
with a flirtatious gait,
a soft, silky, big blonde girl.
They're both gone now.
There is a pile of old blankets,
plastic pails, black trash bags
in a heap on the curb.
Someone has been hired to haul
this home away;
each time they lift an armful,
golden dog hair
black lit by the sun
swirls away,
spins in tangles to the pavement
and disappears.