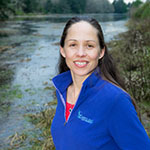 The Oregon Coast harbors globally significant biodiversity, for real!  There are species that exist here that are nowhere else on earth. And with our water and our warmth, we can grow rainforests, the richest terrestrial ecosystems.
The work that I get to do with the North Coast Land Conservancy protects these treasures for the sake of coasties, Oregonians, and the world. With these rich resources comes a responsibility to care for them and use them sustainably.  Planning for connectivity at a landscape scale will maintain these important ecosystems, but we need to start doing it now.  This is the kind of work that NCLC does at a small scale, with our prioritized natural land acquisitions. Yet the concept could and should be used more broadly, because it works for the land, for the people, and for the economy.  The concept is often called green infrastructure.
The Conservation Fund defines green infrastructure as our natural life support system – an interconnected network of waterways, wetlands, woodlands, wildlife habitats, and other natural areas that support native species, maintain natural ecological processes, sustain air and water resources and contribute to the health and quality of life for America's communities and people.
Similar to the pipes and systems of gray infrastructure where travel corridors connect, large areas are reserved for water storage, and sewage is filtered, our green infrastructure also needs to form a sensible network; otherwise it will not work.  Streams need to connect in order to deliver water and salmon, just like roads need to connect to deliver cars.  The leftover open space, even individual priority sites, ultimately will not protect the processes of wildlife migration, water storage and filtration, carbon sequestration, and so on, unless it is a thoughtfully planned network of connections. 
We've had some recent experience that proves the theory right here on the coast.  You know that spot south of Seaside where the road used to flood all the time? Well, the road is in the floodplain of a major river, the Necancium, and to make matters worse, there was a levee on the river.  The levee kept that water off the land, meaning the land could no longer perform its natural water storage function.  The water had to go somewhere, so it flowed onto the road.  By removing the levee and allowing the waters to pour over the riverbanks and into the floodplain, the wetlands and creeks are being rejuvenated for salmon and other wildlife, the water is being cleaned through natural filtration, and the highway is no longer closing regularly.  This is a great win-win where green infrastructure planning supported gray infrastructure networks (i.e. Highway 101).  It's not an either-or proposition: we can have both if we plan for it.
Let's keep the coast beautiful, clean, thriving with biodiversity while also supporting a healthy human community.