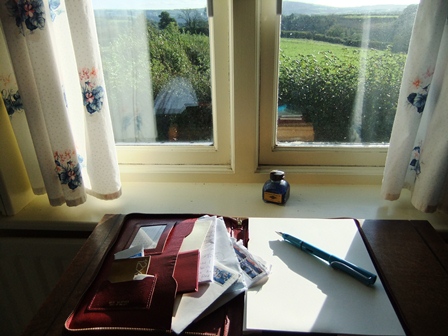 Someone please…make me stop! Confiscate my pens and pencils. Drag me away physically if you must before I inadvertently kill or grievously wound some really good stories.
I'm not a perfectionist…really I'm not. I look at most things with a "good enough" kind of attitude. For example, if the doctor tells me my cholesterol is close to borderline, well that's good enough for me, and when I need to run my car through the car wash, the quick wash is just fine, and if I'm baking and the recipe calls for two tablespoons of something and I only have one and a half, well that's alright too. The one exception to my "good enough" way of thinking is with my writing.
I'm a painstakingly slow writer of flash fiction, agonizing over every word. Since I have chosen this particular genre to dabble in which allows for a very small word count, each and every one of those little buggers is critically important.
Like many writers, an idea comes to me first as a spark, a barely thought out concept that I contemplate and then mold into a story. I write rough, very sketchily at first. Then I start to fill in the blanks with people, places and things that bring those thoughts to life. That process takes a long enough time, but then the trouble starts. My internal editor rules mercilessly, eclipsing any reasonable or rational ideas about revisions.
I edit and re-write over and over again until I think I can't imagine doing anything more with my little treatise and then I set it aside for a few days, weeks or even months. Eventually I pick it up again and read it in hopeful anticipation until I realize, as I inevitable do, that I can make it better. I'll go through this manic cycle multiple times until I come to a place where I once again think I'm satisfied. After that I'll put it away in a handsome leather bound notebook where I keep all of my so called "finished" stories, and there it stays, "finished." That is until I take it out again.
After much consideration, I've decided that maybe I'm looking at this editing thing all wrong. Maybe I should embrace the relentless editor in my brain. She pushes me to look for the best way to say what I'm trying to say. She insists my stories and essays stay open to new ideas and possibilities. It's hard to think of your work as never quite finished, but when it comes to my writing I don't ever want good enough to be okay with me. Yeah, I think that's the way to look at it, me and my endless editor working in tandem on endless possibilities.