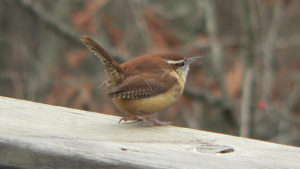 A Wren briefly wears
the windblown red-leaf cloak,
then darts free into flight.
Late in his career Jack Kerouac participated in an interview for The Paris Review. Ted Berrigan had initiated the interview and brought wine and two associates along. As the evening proceeded, Kerouac and Berrigan developed a haiku concerning a sparrow under an autumn leaf.
Kerouac was responding to the interviewer's question, "You have said that haiku is not written spontaneously but is re-worked and revised. Is this true of all your poetry?" Kerouac chose to respond with this creative exercise, quite possibly to demonstrate the interplay between the spontaneous moment observing the sparrow and the subsequent trial-and-error distillation needed to approximate the inspirational moment in verbal expression as a haiku.
My wren haiku above is a variation on Kerouac-Berrigan's collaborative effort. Kerouac wrote the sparrow haiku into his notebook during the evening. The entire interview appeared in print (1968) and is now available digitally, http://theparisreview.org/interviews/4260/the-art-of-fiction-no-41-jack-kerouac .