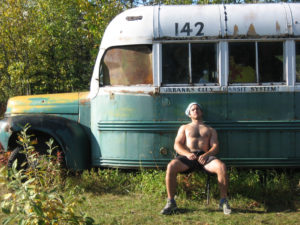 I'm listening to Bonnie Raitt singing John Prine's "Angel from Montgomery" for like the 43rd time. I've loved this song deeply for as long as I can remember.
Just recently I watched "Into the Wild," based on the John Krakauer book, and directed by Sean Penn. It was a beautiful and difficult movie to watch on so many levels, and while I may not be a fan of Penn's personal life, his artistic layering and sensitivities are profound. There is a scene where the lead character, played masterfully by Emile Hirsch, makes the choice not to sleep with a young woman he's been spending time with. He finds out she's 16 and instead of accepting her invitation to bed, he invites her to perform a moving duet of this iconic and emotional song.
When I first watched it, I remember telling my wife how powerful I thought it was, that they portrayed it in that way. Whether it actually happened like that, or it was a fabrication of story, it speaks volumes for the side of integrity and consciousness. Here was young man, just graduated college, and on a spiritual quest, a journey, which by all appearances and speech would seem to culminate in Alaska. I applauded his choice, his abstinence, which at times I found myself in, and always chose similarly when it came to age.
On a personal note, I've always kind of preferred older women, even when I was younger, but we've all stood before decisions that tweeked our moral compass, on one notion or another. On a few occasions I've made choices I've later come to regret, but underage decisions were just not part of my cosmology. So I thought it was really cool that Emile/Sean/and more importantly Christopher Mccandless, (Alex Supertramp), did not go the hackneyed hollywood route of hot young guy meets hot, even younger girl, and they hook up. Kudos for integrity, the Way of ramifications and responsibility, of consequence.
But on maybe the 29th listening of "Angel from Montgomery," I started thinking, what if they had? What if he, in the moment, accepted her sultry offer?
The way the movie portrayed it, they had developed a friendship, a connection, seemingly deep and caring. What if he had slept with her, would he have stayed? Would he have forsaken Alaska and the destiny that awaited him there?
When I was 19, I was a razor. Intense, a zealot, and more than a little crazy. So many people told me the military was for me. "The Rangers, Special Forces, they loved guys like me," one of my employers repeatedly told me. My father served, but just in the Army, and as a clerk of all things. Screw that, I would jump out of planes, eat worms, and kill anyone who was against the good ole American Dream. I talked with a recruiter, I was, that close…
But then I meet a girl, and this muscle bound razor who ran 8 miles every other day got an apartment, and a dog, and started scouring furniture stores for, "just the right couch." It didn't last, but it was just long enough to make dreams of patriotism and the military go buh bye.
So, yes, she was 16, and he was 21? (I don't really know because I refuse to read the book, the movie was heavy enough.) But what if it happened, and it created a deepening in them?
I've been there as so many of you have, flooded with feelings of lust, joy, connection, confusion, peace. Maybe they would have hung together, sold books, kept singing, waited till she was 17, or 18, and went to Alaska together. Or maybe they would have crashed and burned in a week, or a month, a year…who knows?
I do know that in the scene of their parting, when he tells her "Hey, you're pretty magic," and "Just remember, if you want something in life, reach out and grab it," her eyes are haunting. Rimmed with sadness and desire. The way she wraps her arms around his neck, and we still see her one eye, carrying all that teenage pain and angst, confusion and knowing, and maybe a hint of premonition.
Who knows? We can never know, but what I do know is, it is powerful. It will always be powerful, decisions, moments, partings, causes, vendettas…Who we touch and how we touch them, matters.
I think about this, as I listen to Bonnie Raitt for the 44th time.