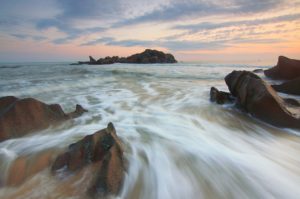 There's a way in which water flows.
It knows where to go without directions,
understands how to travel with ease.
No matter the landscape or its depth,
water doesn't question its path or final destination.
It moves where it's taken.
Across shores, around stones, away from sky, against skin.
Ocean. River. Rain. Tears.
We are mostly made of water.
And yet, we forget this.
This beautiful truth is us.
We, who wonder how might it be,
to remember who we really are before we die.
We are not the stumbling stones in water.
We are the tide, the current, the showers, the drops,
the ebb, the undertow, the swirl, the trickle, the flood.
We rise. We fall. We flow. We move on.
A map is never needed.
Follow the water.
It will always lead you home.