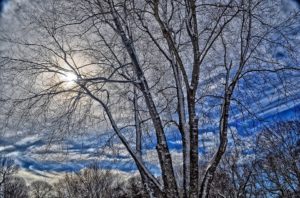 In Autumn the red maple by the lake
takes sunlight of late afternoon,
holds fire captive as though in ransom
against the coming cold. Each leaf burns,
the whole a conflagration.
Through short October days, as leaves fall, flying,
the fire drops away. The tree defines itself
against the lake in dark, fine turnings,
branchings like pilgrim paths that wander upward.
When sun strikes on a sudden morning
through a frozen fog, the ransom of Autumn lost,
a glory stands in silvered white, a gleam so cold
that now the tree's breath shines.
It is as though the tree has lived for this:
neither for the green promises of Spring
nor the blazing heat of Fall's lost bargain,
but rather for this revelation of essential form,
an alchemy of water, air, and light.