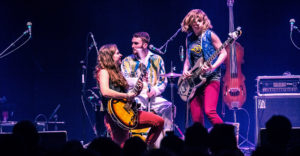 With The Accidentals playing the Aladdin Theater in Portland recently, Nancy and I headed there for a rare weekend away from home. Besides a great concert, we had a great time hiking in Forest Park, shopping and eating in the Nob Hill district, and walking around the Reed College campus. We also met some really interesting people, and found some great food and drink along the way.
With Portland about 2 hours away by car (2 ½ by bus), it is one of the reasons that people pick Astoria to live. The "big city" (had to use quotes, since I'm from New York) is just close enough to be able to go for a day or a weekend without much hassle, but far enough away that the traffic, pollution and other big city problems are not a concern. Here we can enjoy the coast, the beach, the storms, and great culture without all those city hassles. But it does get stale after a while, at least for me.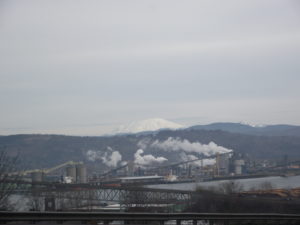 We decided to go via US 30, which follows the Columbia River all the way to Portland, and got our first inkling it was going to be a great trip when we glided down the hill towards Longview, and got an awesome view of Mt. St. Helens (and the smokestacks!). We discovered our first surprise find of many when we were passing through the great town of Scappoose. Yes, there was a sign on the road for Scappoose Bagel, and a quick look up on my phone said they served NY-style bagels, which is one of my holy grails, so we stopped in. Not the best I've had, but better than most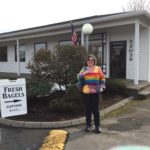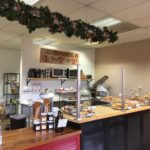 bagels around here! Cute little store tucked into the strip malls and parking lots along the highway.
Our next stop was Forest Park, where I wanted to get some hiking in, and see the area. We always pass this up when going to Portland by car along US 30, because we usually have to be somewhere and can't afford the extra time (or it's pouring, or…), but this time, we had a couple extra hours, so we got off on Old Germantown Road, headed to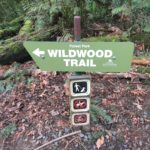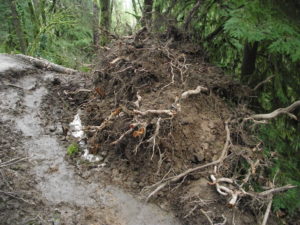 Skyline Drive (which I just found out is being erased by landslides), and got off by the Wildwood Trail. It was muddy, with some snow still visible from Portland's recent Snowpocalypse, but we started out with our street shoes and clothes nevertheless. We were pretty surprised by the damage from the ice and snow storms of a couple weeks before. We got to a point where the root ball of a giant downed tree was blocking the trail (it hadn't been cleared as many had already been), and we turned back. Even with all the damage, it was beautiful. We'll have to go back in the spring or summer (if we can get there!) and do more hiking. I have to say, it was packed with cars at the trailhead, and all along this road all the way into the Nob Hill district. Portlanders really like to get out to their nature areas!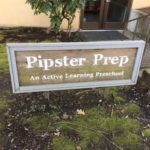 Along the windy rural road in the hills, there were some pretty nice houses, then we got to some swash little developments, where all the houses are next to each other, huge, and actually pretty ugly. But great views! It's all about the view! (Nancy remarked that it looked a little like where I used to live in the Berkeley/Oakland hills.)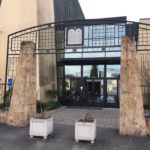 We ended up near the NW 23rd Ave shopping district, which was our next destination, as I needed some eyeglass frames that were close to Nancy's, and found Warby Parker on the web, and wanted to check them out. Across the street from where we parked (an excellent spot, BTW!) there was a huge synagogue, Shaarie Torah, which had a co-op preschool (The Carl Preschool), and a sign for Pipster Prep, which I thought was a cool name (it's another preschool in the complex!). Couldn't get in, but I'd like to check the synagogue out sometime. The website says the congregation started in 1905, and moved to its current location in 1964. Lots of history!
Just before turning onto NW 23rd, I spotted yet another purported NY bagel place, Spielman Bagels, so in we went for a sample. I got an everything bagel, and it was a little dry on the inside, but the crust was pretty crispy. Again, OK, but not the best ever. The search continues…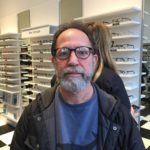 The Warby Parker retail store reminded us of an Apple Store! The place was packed, with mostly hipsters, and tons of greeters, and people trying on the hundreds of frames they had on the walls. Bright white interior, almost surreal. The frames I thought would fit well, didn't, but I found some that looked OK. Decided not to buy, but had them send an email reminder of the kind I sort of liked.
Time was moving along, and we were hungry, so we walked along NW 23rd, and the shops were pretty impressive, as were the crowds – hipsters everywhere!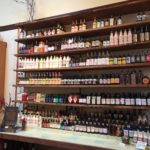 There was a chocolate shop – which also had salt and bitters – along the way called The Meadow, which we stopped in for a little snack, and it had some unusual chocolate, another of my holy grails, so of course I had to get some. I got Original Beans CRU Virunga 70%, "organic dark chocolate protecting the last mountain gorillas, grown around Virunga National Park [looks like a great place to go, and Africa's oldest park!], Eastern Congo (D.R.), pure, vegan, direct trade, with warm notes of morello cherries, deep chocolate and black tea." Tasted pretty ordinary to me, but hey, the advertising worked! And made in Switzerland! You can even put in a tracking number and they'll tell you about trees planted in the area where they got your beans.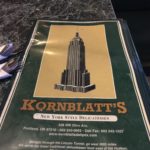 Fortified with some sugar and caffeine, we hurried along across the street, where we made a decision to eat a late lunch at Kornblatt's Deli over Escape from New York Pizza next door. I had matzo ball soup, a knish with whitefish spread, and an egg cream (which of course has neither egg nor cream in it). Just like home! Nancy had some cabbage borscht, which she said was good, and a knish (no whitefish!). The food was good, but the real treat was the people. One of the servers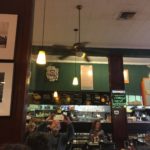 was on a break, and explaining she was from New Jersey, and had her 2-year-old granddaughter there. We reminisced about good Jewish food, and also talked about the new possibilities now that pot was legal in Oregon. Another woman we met asked what we were in town for, and when we told her we were going to see The Accidentals and Martin Sexton, she started swooning, as she was a huge Sexton fan. She said maybe she'd make the concert, even though she had seen him 9 times before, and believe it or not, she DID show up. More about the concert a little bit later.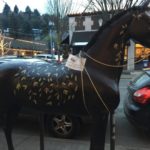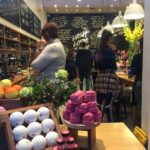 There was great animal sculpture on the street, and some awesome shops, but we had to go. After a quick stop for some gelato, a recent holy grail, we took off to try to find our AirBnB in east Portland.
Unfortunately, it was getting dark, and my best laid plans for getting there were stymied by some sort of accident or incident near the Burnside Bridge. Well, we meandered the downtown streets, trying to find another bridge across the Willamette, which we did, but then ended up on 99 going south, in the left lane, with no left turns allowed for what seemed to be about 100 miles.
Finally, after we saw a sign for Milwaukie, we got off the highway, and with what could only be considered incredible luck, we ended up in the neighborhood near Reed College, where we planned to go the next day, and pretty close to our AirBnB! After consulting with the ever-important Google Maps, we headed for the address given, but when we got to where the map said the house was, there was no street (sort of like our house!). After going by about 3 times, we finally realized the street was an alley with no street sign, and found the house. No time for celebration, it was off to the concert!
We got to the Aladdin early, and who shows up but the woman we met in the deli – the huge Martin Sexton fan. It turns out that there are quite a few of these sorts of people – who knew? Nancy had never heard of him; I had an inkling from my many searches on iTunes for music for my folk show on KMUN. We got great seats (thanks to the Sexton fan, whose name I'm obviously protecting), and The Accidentals were great, the highlight (at least for me) a cover of Rush's Tom Sawyer. They did a great job warming up the audience for Sexton, but we were disappointed they didn't play Michigan and Again.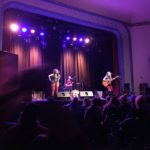 Sexton didn't disappointment either – he really knows how to entertain an audience, using his voice and guitar to make all kinds of sounds (my favorite was a great trumpet imitation!) and enhance his one-man presence. Most of the audience knew every song, and he did a medley of songs from singers who died in 2016, most of which even I knew. He ended with a gospel medley, which The Accidentals joined in. Great concert!
Right behind us in the crowd was a group of guys from Olympia who are going to be in Astoria for the Festival of the Dark Arts, coming up Presidents' Day weekend. (Don't even think of going; tickets sold out a few minutes after going on sale, and it will be packed with people from places like Olympia!) I always remember this time of year – Valentine's Day, Presidents' Day – as the time when it was light both coming and going to Olympia (yes, I used to commute from Seattle to Olympia!) in our vanpool, which left at 6:20 am sharp. Ah, those were the days…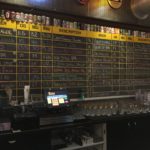 It just so happened that a few feet, as the crow flies, from our AirBnB was an Hopworks Urban Brewery, so we stopped off on the way "home" to get a snack and check it out. (OK, microbreweries are another of my holy grails…) Great place! The beer list was a mile long, and the food was great! The decor was very post-modern microbrewery style, and the service was great. Great way to end a wild day.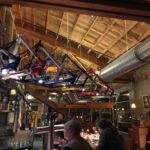 The house we stayed at was unheated, but they left us a little electric heater, and we slept OK. The next day, as usual, Nancy needed her morning coffee, and it was Sunday, so I was looking forward to a substitute for my weekly imbibement at Street 14 Café. Another assist from Google Maps gave us a destination, but when we got there, it was a dud. Just about to go off hunting for a suitable java hut, Nancy found another place in the same strip mall we had arrived at, named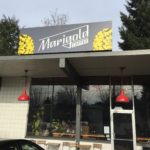 Marigold Coffee. What a find! Small, completely unadorned place, but great mochas (the only coffee drink I drink) and great pastries from a local bakery. Mostly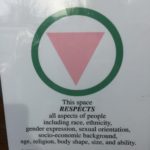 students, cheap, and great service. They even had a bee habitat outside! And a great little poster (from SMYRC) by the door declaring the place a SAFE ZONE. Started by three women, it has a roaster in the nearby industrial district, and serves coffee to lots of local restaurants and stores, and contributes to many progressive causes. Now that's a Portland coffee place!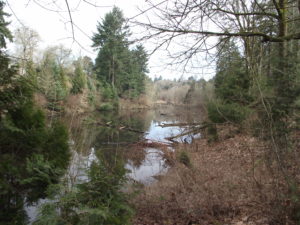 Next stop in Stumptown was Reed College, where we thought our son Tevan might go, as they don't have grades (unless you ASK for them) and are known for their smart and successful grads. (They're also known for a high dropout rate, and some pretty high consumption of the evil weed.) Well, Tevan chose Middlebury College, and we're (and he is) not sorry, but I never got to go to Reed during the college search period in 2013 (I've got to finish an Edge post on that soon!) or since, so here we were.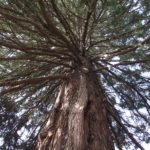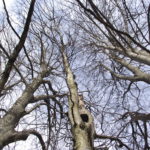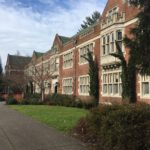 Fortunately, the rain predicted did not happen, and we enjoyed a leisurely walk around Reed Canyon, which was formed by damming off Reed Creek in the early 1900s (we should have looked at the website before going, but part of the adventure is discovering as you go…) and through the campus. Fantastic views of the hills of west Portland, some nice old buildings and a few nice new ones scattered among some duds, and a really pleasant experience among the trees and ducks of the canyon made for a great afternoon. There was still some ice in outlying pools in the lake, and there was some tree damage from the recent ice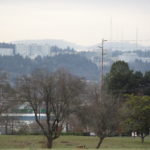 storms, but most of the huge evergreens were fine. Nice campus, with hints of great academics going on. We stopped in the student union building, and I saw a poster for a talk being given by David J. Peterson called The Art of Language Invention, which intrigued me. Check out this guy's website – he's really cool! I love colleges and universities! (In fact, we're going to Oxford in a couple months to visit our son, who is doing his semester abroad there. Great excuse, eh?!)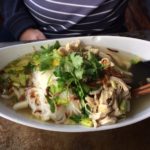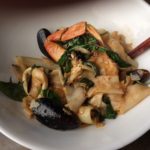 The long walk got us hungry, so before heading home, we headed over to the nearest New Seasons supermarket, which turned out to be in the commercial/retail area (SE Woodstock between 41st and 46th) that we had been seeking that morning. We had been at one of these markets a few weeks before in Vancouver (WA), and they had some pretty good deli food, so that sounded good, but you don't always get what you want… Parking a block away because we saw some other possibilities (like Otto's Sausage Kitchen!), we ended up eating at Nudi Noodle Place (the link is a review, as their website is very sparse, at least in my browser), which was yet another fortuitous find for our relatively unplanned trip. So well presented that the hated food photos had to happen, the meal was fantastic, with Nancy getting essentially pho in a long bowl, and me getting a wonderful seafood with wide rice noodles dish. My favorite thing there was a chemistry glass beaker used for dirty spoons. That's class! I also got some apple tea concoction that was delicious, and the whole thing was just great!
On we went up 99 north, to I-5 and onto US30 towards home, so I could do a radio stint (Bedtime Stories and Nachtmusik!), passing a few places we would like to see next time we're in Stumptown, which we hope to make a regular occurrence.
And we never did get to that New Season's. Oh well, next time. The Astoria Co-op and Safeway will have to do until then.