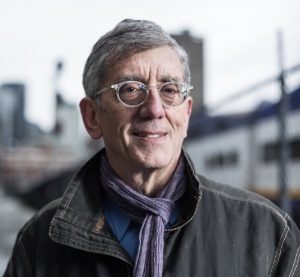 I grew up believing that money was both creepy and necessary, like beef liver, that 1970s proto-superfood that tasted like shoe leather coated in candle wax. These days, when I hear about conscious capitalism, I ask myself if it's just socially responsible rapaciousness and greenwashed greed.
On the cover of The Clean Money Revolution*, two piggybanks appear, one with a halo hovering above the slot (wide enough for big bills). They beg the question: can capitalist piggery be saintly? Joel Solomon answers this question with insight and imagination in a book that combines a narrative about his evolving relationship with his inherited money, interviews with financial visionaries, and suggestions for becoming a conscious investor. Pigs, Solomon reminds us, are much maligned for their fabled tendency to eat slops and wallow in mud. The despised capitalist pig also rolls in filth, but it's cash rather than trash. Yet, as with pigs on a farm, "If it [money] is allowed free range to roam and get reconnected to the Earth, it can do amazing and important things" (iii).
Solomon, who heads a mission venture capital firm based in British Columbia and whose socially aware investing activities include helping to revitalize downtown Nashville in his native state of Tennessee, defines clean money as "money aligned with a purpose beyond self-interest" (xi). He argues that it's possible to reap dividends without damaging the land, sea, and human communities: "Clean money thinks through where materials come from, who assembled them, and whether that process was just or unjust, regenerative or destructive" (xi). He admits that for decades, the dominant "value" in capitalism was to make a buck, preferably many bucks. "But money has no values of its own. Money doesn't account for fairness, justice, beauty, consciousness, or love. That's our role, and it's ever more crucial that we assume it. We need to start to talk about money in ways that dethrone it and make it subject to human ethics and standards of love and decency" (xii).
At the same time that I'm exhilarated by the promise that affluent people can change the world with their extra funds, I can hear rumblings inside from my 1990s socialist graduate-student self. It's a far, far better thing (in the words of Dickens, that champion of the lowly and critic of the powerful) if rich folks invest in wind power rather than in a tobacco company, but that leaves the rest of us relying on the one-percenters' noblesse oblige to make that choice. What about regulatory measures — such as a genuine progressive income tax, inheritance taxes for the super-rich, and surcharges for stock-market transactions — to prevent wealth-hoarding on the part of the less altruistically inclined? Solomon doesn't neglect this thorny matter but has chosen to focus on voluntary acts motivated by enlightened answers to the question, "What is the legacy we are creating with our money?" (37).
Toward the book's end, Solomon imagines money transformed into something holy: "Let's use money as a sacred substance, as if the future matters" (187). For so long, money (and its precursors in real estate, art, gems, and other portable goods) has been blood money—at times earned from individual toil, but in the long era of imperial dominion, built on a foundation of warfare, cruelty, slavery, and theft. Now, through the alchemy of conscious capitalism, that blood money can be transformed into heart money. Can wealth-holders become like those far-seeing folks who turn abandoned lots and old landfills into gardens and parks? For our sake and our world's, I pray it should be so, and I'm thankful to Joel Solomon for sharing this vision with readers.
* The Clean Money Revolution hit the book market this month courtesy of New Society Publishers.