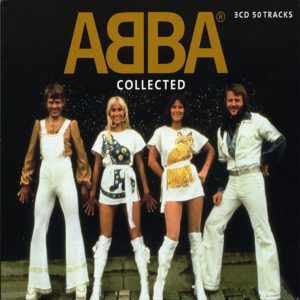 Classic rock fans often wax nostalgic about guy-bands from across the pond like the Beatles, Rolling Stones, and Led Zeppelin. For me any tribute to trans-Atlantic music must spotlight a mixed-gender group from Sweden.
ABBA played a sweet role in my musical upbringing. I was reminded of this recently while watching a video of the group performing in 1976, with a young girl on the dance floor spinning around to Dancing Queen. The video brought back memories of watching ABBA on American Bandstand, our version of MTV. In those days, roller-skating rinks were popular and it wasn't uncommon to hear an ABBA tune during the "snowball," when the boys were supposed to ask a girl to skate around the rink until you heard the announcement "It's an all-skate everybody," and the pressure of not being asked to skate was relieved.
I first discovered ABBA while fishing through my parents' record collection. I loved to look at the group's album covers, and marvel at the crazy outfits the band was wearing. I especially liked the double album cover showing the blonde singer (Agnetha Fältskog) with her cool hat tilted sideways, wearing gauchos and leather boots, and the guy next to her reading the paper. On the other side of the cover was the red-haired singer (Frida Lyngstad) wearing a knit poncho and kissing some bearded guy. I truly felt sorry for the blonde girl who seemingly was being ignored by a man I assumed was her husband or boyfriend.
Fast forward to 199I and I am now in college. While the scene was all about grunge and Nirvana, I would listen to ABBA, confused by love, and drive around blaring the song The Name of the Game singing out the following lyrics, "If I trust in you, would you let me down? Would you laugh at me, if I said I care for you? Could you feel the same way too, I wanna know what's the name of the game?" I felt like it was my personal anthem to one particular boy and if given the chance I probably would have dedicated it to him on some sappy late night radio station. The relationship didn't last and a couple years later my CD player was on constant repeat of Winner Takes it All. Critic Chuck Klosterman wrote that ABBA's "Winner Takes it All is the only pop song that examines the self-aware guilt one feels when talking to a person who has humanely obliterated your heart."
Now, when I listen to ABBA, songs such as Mama Mia, S.O.S., and Take a Chance on Me, I can't help but sing along and remember fondly that scratchy sound of the needle on a record, when your TV had only four channels, and summer meant running through sprinklers. at was a time when no kid, or parent for that matter, carried a cell phone. If your parents wanted to call you, they would open a window and yell outside that it was time to come home. It was the carefree summer days of outside entertainment such as Hopscotch, Kick the Can, Red light Green light and Mother May I. As a kid growing up in the 70's I thought these were pretty great and simple times. ABBA's music still makes me feel as if I'm six years old, reminds me of a love that I once knew, and still provides me with some of my favorite earworms of all-time.