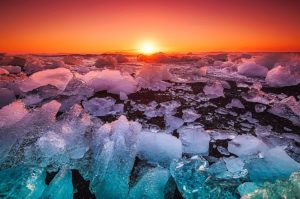 As my wife Suzy and I make our way across the brightly polished wood floors past towering glass windows it feels more like we are visiting a modern art gallery or an Ikea store than arriving at an airport on a remote Nordic island in the middle of winter. Waiting for our shuttle, the baggage claim area suddenly erupts into applause as a young blonde woman emerges from the crowd followed by a gaggle of TV cameras. I ask a traveler next to us who she is.
"Oh, that's Olafia Kristinsdottir. She is returning home after winning a spot on LPGA tour," he says matter-of-factly. "She is the first woman in Iceland to make it this far in golf."
It turns out that the reception of this female pro golfer says a great deal about how this nation values the role women play in its society, government and golf courses.
Founded by Vikings in 874, Suzy's ancestral homeland has always been a fiercely independent country, and it has become a leading voice for women's rights over the past two centuries. The first settlers fled from Scandinavia to establish a free society on the harsh and beautiful volcanic island. Having no desire for another king, they quickly established a General Assembly made up of locally appointed representatives who met yearly to establish laws and settle disputes. Established in 930, the Althingi remains the world's oldest parliamentary democracy and was eventually led by the first woman to be democratically elected president.
Despite being a divorced single mother, Vigdís Finnbogadóttir was elected at age 41 as Europe's first female president. She served four terms in office from 1980 -1996 as a champion for women's rights which had gained the world's attention during the 1975 general strike by Icelandic women. On October 24 of that year, 90 percent of women took a day off to emphasize the importance of women's contributions, both in paid and unpaid work. Then on October 24, 2005, Icelandic women left work at 14:08, which was the estimated time when women had earned their pay — based on women's pay as a percentage of men's pay. Close to 50 thousand people went to a rally in downtown Reykjavík, which was around one third of all Icelandic women, the largest meeting in Icelandic history to date. In the years since these landmark events, women's issues have made important strides in areas such as health care and the workplace. Parliament has recently taken up plans to become the first country to require equal pay for women.
While traveling throughout Iceland we quickly got the sense that the working people we interacted with seemed content with their lives. There is a strong sense that everyone counts in their society, which has one of the lowest crime rates in the world and police officers do not carry firearms. The country has even gone several years without seeing a single murder. It is not uncommon to see single young women walking alone late at night in downtown Reykjavik or catching a ride from a stranger. Partly due to its geographic isolation and relatively low rate of immigration, Iceland has remained a largely heterogeneous population since its inception. Because there is virtually no difference among upper, middle and lower classes in Iceland, tension between economic classes is almost non-existent. A study of the Icelandic class system found only 1.1% of participants identified themselves as upper class, while 1.5% saw themselves as lower class. The remaining 97% identified themselves as upper-middle class, lower-middle class, or working class.
Several times on our trip we found ourselves wondering what it would be like to live in a country where everyone feels like they are on the same team and their government is looking out for them. College tuition and healthcare are funded by the state while taxes are relatively low compared to other Nordic countries. More than half of government expenditures are for health, education and public assistance programs; while defense spending is less than 1 percent (Iceland has no standing army).
What has this country of 330,000 people at the top of the world figured out? They seemed to know how to get along with each other. Was it the geothermal water, their 99% rate of literacy or their belief in Elves? They had managed to survive the financial crisis of 2008 and come out the other side looking better than ever. While our own country struggled with its polarized view on how to make America great for everyone, this little Nordic nation pulled together and made it all look efficient.
As the rest of the world continues to discover this magical utopian outpost in the North, one can't help but wonder if it can remain true to its egalitarian vision, environmental purity and independent spirit. When the news broke that a 20-year-old woman named Birna Brjansdottir had disappeared while walking home from a Reykjavik bar the morning of January 14th, we were stunned.
After her mother reported her missing, the police began a massive investigation, reviewing security camera footage showing Ms. Brjansdottir staggering home along the main shopping street and possibly getting in to a red Kia rental car. Despite launching the largest search and rescue operation in Iceland's history and investigating hundreds of tips they were unable to find the missing woman. Then police discovered video of the red Kia parked at the docks of a Greenlandic fishing trawler. After discovering traces of blood in the car, police flew by helicopter to board the ship at sea, taking two sailors from Greenland into custody. Ms. Brjansdottir's body was later found washed up on a remote beach outside of town.
Back home we felt brokenhearted reading news reports of the developing story. Just a few weeks before we had met with my wife's Icelandic cousin, her daughter and granddaughter for fish soup by the harbor. Now it was hard to imagine how these three generations of women felt about their home. Icelanders reacted with shock and outrage that something like this could happen in their peaceful land, and at the hands of their Greenlandic brothers. A memorial service was planned for the mourning country who considered Brjansdottir a daughter of everyone, with many posting "I am Birna" and messages of condolences to the family on social media. On January 30th, 10,000 people joined in a march in downtown Reykjavik to show their support. This event comes as the boom in global tourism brings almost two million yearly visitors to this fragile and beautiful island. Already, women have reported feeling less safe walking alone at night or using informal ride sharing services to get around town.
The pressures of a tourist economy will continue to challenge this vibrant land and its people, yet history shows their resilient, independent and hopeful spirit will remain strong. And there is little doubt that women will play an important role in shaping what's to come.