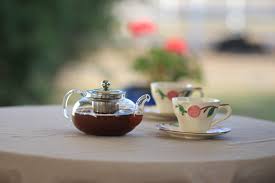 When the everyday stresses of life and the worrisome script of national and world politics become too much, we all have our ways of coping — be it a cathartic primal scream, active protest or involvement in political office. But there are times when a retreat is in order. Not so much as in flight or fight but as in considered rest — closing the doors to the world, lighting some candles, setting a pot of tea to brew and putting something melodic on the stereo. This is what my parents did recently to bring sanity back into all the chaos.
Inspired by a tin of homemade Finsk Brød (Finnish Shortbread) leftover from Christmas and found tucked in an odd corner of the freezer, they decided on the ritual of a tea party to shore up their spirits. The shortbread are traditional Danish cookies from a recipe my mother has been making every year since she moved to America from Copenhagen to marry my father. They are sublime in their simplicity, crisp and soft at the same time and best served in peaceable companionship and savored slowly. This is just how my parents enjoyed their cookies.
When they told me about this mini-retreat, I told them it sounded like hygge. We shared a slightly self-conscious laugh. Hygge is a Danish concept that has been getting over-played by the media lately. It directly translates as coziness. The Oxford English Dictionary defines it as: "A quality of coziness and comfortable conviviality that engenders a feeling of contentment or well-being (regarded as a defining characteristic of Danish culture)." Shopped around by blogs, articles and books as the best new lifestyle trend going, images of Danish interiors aglow with candles, mid-century modern furniture, sheepskin rugs, chunky woolens and the like proliferate, illustrating how to get the hygge vibe.
All this attention is also tied to Denmark consistently showing up as one of the happiest countries in the world in the United Nations annual World Happiness Report. What is it that makes these people so content? This small nation of outdoorsy Danes enjoy beautiful northern summers. There is a high tax structure that provides generous social benefits (including universal health care) as well as stabilizing one of the smallest wealth gaps in the world between the very rich and the rest. It is very child friendly, has fabulous culinary traditions and a strong appreciation and support of art and culture. Plus they've got Legos. No list would be complete without mention of this quintessentially Danish company that competes on the world stage while pursuing sustainable and planet-forward practices.
As magical as Danish summers are, the winters are very long, dark and damp. Not inherently happy-making but that's where hygge shines. Forgo focusing on the material trappings of hygge mentioned earlier. (Except perhaps candles.) While the Danish design aesthetic is certainly very lovely and integral to the country's culture, that doesn't create hygge, though it may be a happy result of this mindset. This Danish notion of coziness or comfort comes from long evolved experience in how to live in and truly care for your surroundings, be that your living room or your country. It is about paying heed to the moment and making it the very best it can be with whatever is at hand. It is a way of being with yourself and others, feeding the need for connection as well as retreat. As a way to survive the Nordic winter with peace and sanity intact it works beautifully.
As a child, I loved the extra dimension and perspective that living with a blend of cultures provided, from my mother's charming accent to general family hilarity at her take on American life (what kind of wondrous American cows produce eggnog and why do complete strangers call you honey and please don't make me say refrigerator!). Being of two worlds felt like a gift, especially celebrating Christmas with both American and Danish traditions. When my mother baked her Finnish Shortbread, the season became embodied by the crunch of sugar in the dense buttery dough. Yet, for all the gifts and sweets presented by this occasion, the cherished moment was always when we gathered simply amid candlelight, making the choice to be fully present, connected to each other and the rest of the world in stillness and in peace. That's hygge. And it is not limited to winter.
I have a distinct childhood memory of walking to the beach in the small southeast coastal town of Dragør just outside of Copenhagen. The walk afforded glimpses into the beautiful cottage gardens that served as outdoor living rooms for residents during the summer. In one, a group of elderly ladies gathered, taking in the sun while drinking tea, chatting with great animation and smoking cigars. It is the novelty of the latter detail that greatly appealed at the time, but seeing it with older eyes, it is the ease of companionship and the comfort taken from a well-tended garden that resonates. The women were completely connected to their environment and obviously making the most of every moment. It looked like hygge — and happiness.
If you're wondering how to pronounce it — find a Dane, ask them and share a smile.
Finsk Brød – Finnish Shortbread
Grate 2 cups of cold butter. European style butter offers the best results for its higher fat/lower water content. Sift 4 cups flour into a large bowl and add 1 cup sugar and a pinch of salt. Add grated butter and knead by hand or use a food processor to quickly combine – being careful not to overmix.
Shape dough into ball and chill for about 30 minutes. Preheat oven to 375 degrees. Roll out dough to a thickness of 1/2 – 3/4 of an inch on a floured board or between layers of wax paper. For this version of the cookies, shape dough into a large diamond shape. Using a sharp knife, slice rows in the dough apx. 1-2 inches wide (depending on the size of cookie you desire) along one side of the diamond and then slice rows along the adjacent side, making diamond shaped cookies.
Whisk one egg and brush over the dough and sprinkle liberally with chopped almonds or walnuts if you prefer. Optional: For extra sweetness and crunch, lightly sprinkle with coarse sugar. Transfer individual cookies to greased or parchment lined baking sheets far enough apart to allow for some spreading. Bake for about 10 minutes. Keep a close watch and remove cookies when a very light golden brown. Make sure to sample the cookies warm from the oven though they are best eaten cold from a favorite cookie tin.