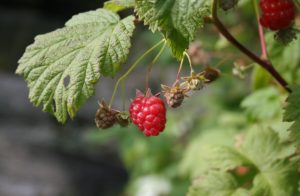 My Scandinavian heritage comes from my mother who shares both Sami and Norwegian blood. She and I would make seasonal saft cordials and put them up for winter in beautiful cut-glass bottles. When the holidays arrived the bottles would be brought out and the cheerful berry concoction would be served in dainty little glasses. Saft is a delicious berry concentrate that is enjoyed throughout Scandinavia. It is generally non-alcoholic but is enjoyed mixed with spirits or in the bottom of a glass of champagne as much as it is enjoyed as a refreshment served simply with sparkling water.
We thrive in wild lands of abundant water, migrating salmon and an impressive array of wild berries. I often find myself thinking of my ancestors while I pick berries under the golden sun, my hands stained and bucket getting heavier with bounty. I remember berry picking with my family, the incredible flavor of a perfect blackberry or a bright raspberry. I remember looking at my own children's faces, their cheeks rosy with juice and sticky hands reaching for more. I remember saft cordials and tarts. Years when the salal berries were impossibly sweet. The breathtaking sight of the bright pink-red huckleberry punctuating it's lacy leaves with ladylike elegance. And salmonberry, thimbleberry, and the tamarind-tang of the berry grown by native lily-of-the-valley.
These remembrances run deep. They not only connect me to my ancestors but are a reminder of the original people who harvested the rich bounty that we have here in the great Northwest.
To make Saft gather berries when they are ripe. Cook the berries in water and sugar (sweeten to taste). If you wish, add a little lemon! It adds a nice brightness to the flavor. Mash the berries as they cook. Strain the mash through a few layers of cheesecloth. It will take some time and, when it's cooled enough to handle, gather up the cheesecloth and squeeze the remainder of the juice from the mash. Strain the juice once again before bottling or canning. You could also buy a mid-grade vodka and add your fresh juice to make a delicious cordial (think Anne of Green Gables, and her fateful tea with Diana when they drank too much cordial!). Above all, enjoy in good health: Skål!