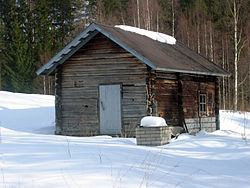 Last summer
the farm where my mother was born
where my Finnish grandparents homesteaded
in Northern, Northern Minnesota,
burned to the ground
in a forest fire.
In 1914, they built the sauna first
It sheltered the families
of the immigrants
as they proved their claim.
Sauna meant shelter
and fire and warmth.
A place to wash.
They cooked
on the hot stones
and slept
on the long benches
covered with rag rugs
made of clothes from Finland,
long worn out.
Boppa helped his brother
build his homestead.
All that winter,
my grandma, my Aiti,
was alone
with a toddler
and a babe in arms.
The only people she saw
were two Chippewa
who came by for food,
the winter was so harsh.
The Robber Barons
had cut clean the land
sere and barren.
My Grandfather
planted lodge pole pine.
When I was little,
I thought these trees
were virgin forest
they grew so tall.
At sunset
the light would slant
down between the trunks
spilling long shadows
across the lawn
down the hill
to the brook
with the hand-hewn bridge
and the water skeeters.
On the other side,
wheat gone wild
these fifty years
blew in the wind
under piles
of bright clouds.
At night the fog would rise
and spread between the birches
reflecting impossible stars
covering the blueberries
muting the hoot of an owl.
Once my Mother and I,
grown women,
rolled down the grassy meadow
and nibbled wild strawberries
right from the plant.
The lazy summer porch has burned,
along with the fishing poles
and the 22 Aiti used
to clear woodchucks
out of her garden
And silly plaques like
"The earth is 2/3 water
and 1/3 land.
The Good Lord
kinda figured you'd fish
more than you'd plow."
Little Bible verses
spelled out in
alphabet macaroni
decorated with grains
and flower seeds.
Ancient magazines
in the secret place
above the stairs
where you could listen
to grown-ups.
Three generations did.
In the kitchen
The big school clock,
ticking.
Upstairs,
oil in the
kerosene lamps
slanting from the tilt
of the house,
slowly
sinking
into the brook
The stable touched me most.
On it hung a scythe
worn with years of use
and a whetstone
to sharpen it,
large and round
its wheel and bench
grown over with moss
since Boppa died.
Inside: real sleigh bells!
The cream separator.
The felt Saami boots
that Boppa wore
to walk over the snow
that piled up clear
to the second story.
The iron bed
in which my mother was born.
All this has burned.
Only one tree grew high enough
to reach above the fire.
They saved the houses
with the people in them,
but left for the flames
the one with ghosts
the one
of memory.