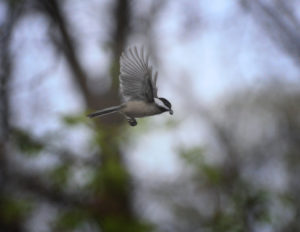 The Day After the Election
A red oak leaf and a brown beech leaf lie
across a wet sword fern frond in the late sun.
A chorus frog does a hoarse solo on the hill,
a flicker cries a series of sharp single notes.
The sun falls, the mist rises all over the valley.
These things at least, I guess,
will go on.
November 9, 2016
The Day After the Inauguration
A pair of goldeneyes spin and dive
in a riffle below the covered bridge.
Hazel catkins swell and stretch,
not long till budburst. Back home,
chickadees have found the feeders
at last! Feared they weren't coming
at all this year—but here they are.
January 21, 2017